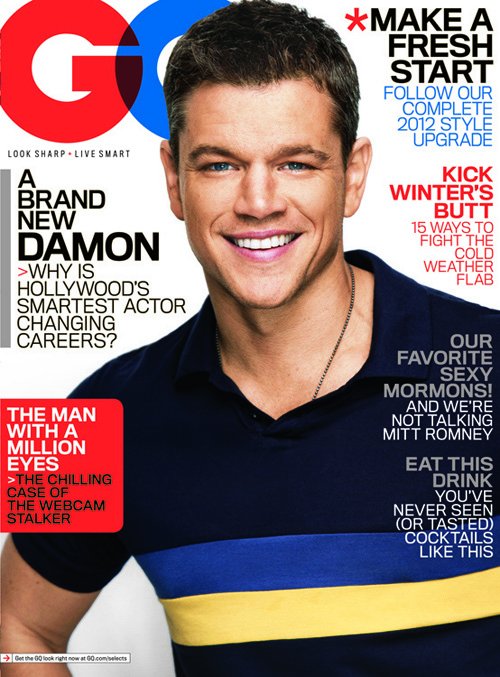 Actor Matt Damon is all smiles on the front cover of GQ Magazine's January 2012 issue.
In the accompanying interview, the "We Bought A Zoo" actor discusses everything from why he left the "Bourne Identity" movie franchise to what he thought about a joke President Obama said about another one of his movies, "The Adjustment Bureau."
Read a few excerpts (via Just Jared) below:
On President Obama's dig on his film The Adjustment Bureau:
"I have to say, it was pretty funny. Whoever came up with it, it was a terrific joke."

On the Bourne trilogy and choosing not to continue with the franchise:
"If you look at the first three movies, we kind of pounded that idea of identity and amnesia into the ground. We really got everything out of it that we could. So to reboot it, we need to come up with something completely new."

On the new Bourne writer Tony Gilroy:
"I don't blame Tony for taking a boatload of money and handing in what he handed in. It's just that it was unreadable. This is a career-ender. I mean, I could put this thing up on eBay and it would be game over for that dude. It's terrible. It's really embarrassing. He was having a go, basically, and he took his money and left."
Visit GQ.com for more from Matt Damon!
Be the first to receive breaking news alerts and more stories like this by subscribing to our mailing list.