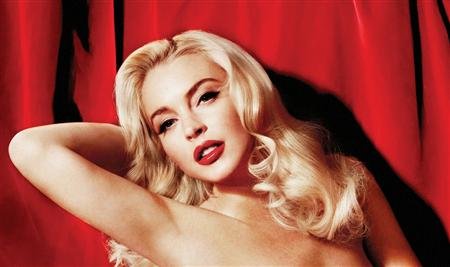 In case you didn't know … Playboy Magazine nude spreads are actually accompanied by real interviews with real words, which means that some people actually do read nudie mags for the articles. (Shocking, right?)
In the interview that goes with Lindsay Lohan's tastefully nude Marilyn Monroe tribute photoshoot in Playboy's latest issue, the troubled actress reveals that doing the shoot was important to her because it "gave [her] confidence."
"Sex and sexuality are a part of nature, and I go along with nature," Lohan said.
"I think Marilyn Monroe once said that," she continued in her Playboy interview, which appeared online just a few days after the photos from her nude photoshoot prematurely leaked via a foreign file-sharing Web site
"I certainly agree with her … Knowing yourself and your body is so important because it gives you confidence, and in life, women need confidence. It's a very male-dominated world to begin with, so knowing yourself and being comfortable with your body is an important thing for me as a woman. Everyone is entitled to their opinion, but this is mine," Lohan said.
The actress, who has been a staple in the news over the last few years for her various legal issues (drunk driving, drug possession, theft, the list goes on…), told Playboy that during the past five years, she's come to understand "that ultimately we are responsible for ourselves and our own actions."
She continued, "Looking back, I probably would have listened to and taken more advice from the people whom I admire and would have followed through with it more. My stubbornness at 18 and 19-years-old got in the way. During the past five years, I've learned that time flies faster than you think, and because you only live once you have to learn from your mistakes, live your dreams and be accountable."
The former child star, who first rose to fame playing twin sisters in the 1998 Disney film "The Parent Trap," also said that she doesn't understand why people are so "fascinated" with her and her life.
"I have no idea why there is this fascination with everything I do," Lohan said. "I suppose it is all part of this trend of people wanting to know every single detail of a celebrity's life. I mean, once we get to the point where magazines are doing pictorials on my wardrobe to court, that's just so unimportant."
What Lindsay Lohan needs to understand is that we aren't "fascinated" with her OR her life. We're simply intrigued by how someone so talented and so promising could mess up their own life and continue in a downward spiral.
For more on LiLo and to check out her nude spread, pick up the latest Playboy!
[Reuters]
Be the first to receive breaking news alerts and more stories like this by subscribing to our mailing list.