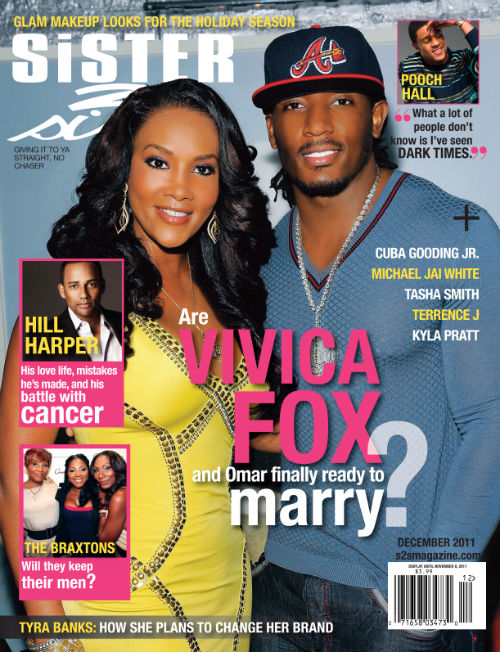 Vivica A. Fox told Access Hollywood in an interview this week that she called off her engagement with Atlanta club promoter Omar "Slimm" White … but apparently, that's not how it went down.
According to Slimm — aka the "six pack and a smile" — he was the one who ended the relationship and he says Vivica is just trying to save face rather than admit the truth.
In an open letter released yesterday, Slimm tells his side of the story, calling his ex a liar and defending himself against claims of him using Vivica for her celebrity, adding that he would probably still be with her if she would stop with all of the "childish antics" and let go of the negativity.
Slim also adds that he was completely blindsided with the fact that Vivica had conducted an interview for the December 2011 issue of Sister 2 Sister Magazine (Check out the cover above!) about their relationship, apparently without his knowledge, after they had broken up.
Read the entire letter (via Necole Bitchie) below:
I totally understand that a person would rather save face and avoid admitting their fiancé ended the relationship. So I understood why Vivica didn't admit the reality of what really took place. She would have come out better if she stated we went our separate ways if she wanted to avoid the "true" nature of the breakup. The main thing is don't lie… she and I know what happened so just be cordial and keep it moving. She knew from day one when I first met her I would joke and say "hey baby don't hit me with that 2 can play that game" lol those methods destroy relationships. I hate games and negativity

Further more if I was using her for fame then why wouldn't I play the game, put my pride aside and follow through on tying the knot? The reason being I'm not that type of man and I refuse to sell myself short for Fame.

Happiness is key in anything you do in life and people who settle for the wrong reasons never find True Love. I understand the illusion of life and what to avoid so I'm happy at the decision I made and one thing that was evident if she keeps it real or not is the fact I told her several times that "baby, no matter what we disagree about, let's keep peace and love in the house."

As you see in the month of December, her and I appeared on the cover of Sister 2 Sister, and when I saw the cover I was shocked because I walked away 2 months prior but I came to the realization that Vivica went ahead and did the interview as if nothing happened (At that time the public wasn't aware of our breakup) So I'm thinking like if you really wanted to get Married instead of getting caught up in all the glitz and glamour you wouldn't have continued to provoke stress in the relationship. If you were to ask Vivica right now, "Did Slimm try time and time again to keep the relationship strong" she would have no choice but to admit who I am and the good examples I set! I always told her toward the end that "baby, I will loose interest if we keep this up"… When you have a bond with a woman that fire can fade if both parties involve don't fight to preserve Chemistry…

But as I stated once before she has a great personality and a good spirit but you will never find true happiness if you cannot …overcome negativity and childish antics… I wish her the Best
Sounds like Vivica A. Fox just got put on blast!
What are your thoughts?
Be the first to receive breaking news alerts and more stories like this by subscribing to our mailing list.