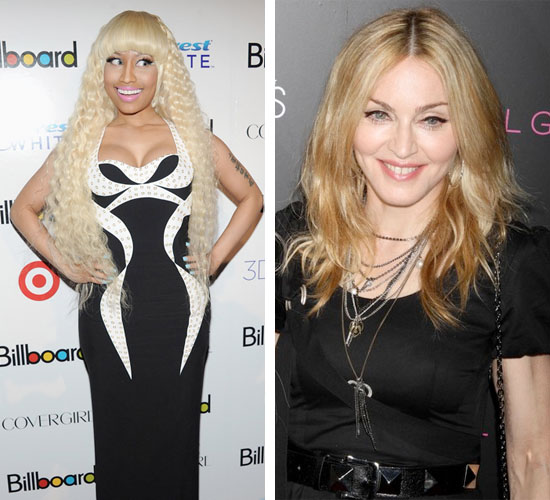 Nicki Minaj she kissed a girl … and apparently, she liked it!
The Young Money rapper — who celebrates her 29th birthday today — recently locked lips with Madonna, and could barely control her excitement as she shared the news with her adoring fans on Twitter:
OH MY f'ingggg Gahhhh!!!!! MADONNA jus kissed me!!!!! On the lips!!!!!!! It felt sooooo good. Soooo soft!!!! *passes out* aaahhhhh!!!!!!!!!

*kisses each one of my barbz so they too can taste queen madonna* I love u guys sooo much!!!! This video is of epic proportion! Love uuuu!!!

Yes! It was recorded!!! *hopes & prays this footage appears somewhere* lmaoooooooooooo

No barbz…like…seriously…it felt soooooooooo good!!!!!!! Sooooo soft! Like what?!?!?! bwahahahhahahahahahaha!!!!

I was shocked but kissed back!!!ahhh! > RT @MzBellaBarbie:@NICKIMINAJ how did u react when she kissed you? Shocked? Spazzed? Kissed back?

It was more romantic. Bwaha! > RT @ItsMarthaBitch:@NICKIMINAJ was it like the Madonna/Britney kiss or did y'all make your own HERstory?
Madonna recently linked up with Nicki Minaj and M.I.A. for her new song "Give Me Your Love" and apparently the 'big kiss' was on the set of the video for the single
The three ladies are rumored to perform the track together in February when Madonna graces the stage at the Super Bowl.
This isn't the first time Madonna has publicly locked lips with another woman. The Pop Queen famously kissed Britney Spears and Christina Aguilera in 2003 at the MTV Video Music Awards, which was met with a lot of controversy.
Be the first to receive breaking news alerts and more stories like this by subscribing to our mailing list.