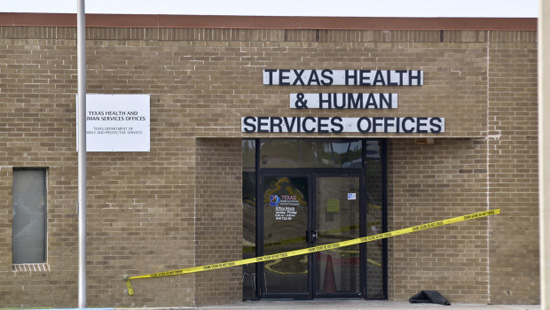 A Texas mother-of-two who was distraught about being denied food stamps shot her children and killed herself after holding a 7-hour standoff with SWAT teams at a state welfare office.
After previously being denied food stamps, 38-year-old Rachelle Grimmer, with her 10-year-old son Timothy and 12-year-old daughter Ramie in tow, walked into a Laredo, Texas Department of Health and Human Services building late Monday afternoon demanding to speak to a new caseworker, and not the one whom she had worked with before.
Shortly after, Grimmer was taken to a private room to discuss the case, and that's where she brandished a handgun, which is when the standoff began.
For the next several hours, police negotiators tried to persuade Grimmer over the phone to bring her children out safely, but she refused, and kept hanging up on them as she complained about how the state and federal government agencies weren't helping her feed her family.
After about 3 hours had passed, Grimmer let a supervisor go unharmed, but remained inside the office with her two children,.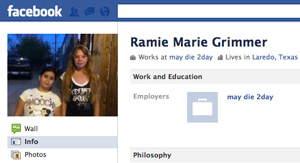 When Grimmer hung up the phone for the last time fter nearly 7 hours, police heard three shots, and a SWAT team immediately entered the building, where they found the woman's body in a pool of blood with her wounded children nearby.
She had shot both of the children before fatally pulling the trigger on herself.
Both of the children were reported to be in "very" critical condition and unconscious as of Wednesday (Dec 7).
Authorities told the Associated Press that Grimmer, who had recently moved from Ohio, was denied food stamps because she had left out some key information on her initial application, which was filed in July 2011.
The family's move from Ohio may have complicated Grimmer's application since the family had no Texas records the agency could check electronically, Texas Department of Health and Human Services spokeswoman Stephanie Goodman said, adding that the family was struggling to stay on their feet after the move.
After initially filing in July, Goodman says Grimmer missed her first interview and never followed up with the office to reschedule. Her case was closed back in August for lack of a full application.
Goodman says Grimmer called back in November (3 months later), requesting a review of how her rejected case was handled.
Goodman said after the review, it was determined that caseworkers acted appropriately, and a supervisor called Grimmer's cell phone last week to tell her the outcome. No one answered the phone, and the agency couldn't leave a voicemail because the inbox was full, Goodman said.
"She was dealing with a lot of issues," Stephanie Goodman told the AP.
Goodman also said she didn't know whether Grimmer had a job, or whether her children were covered under Medicaid or another state health insurance program for children.
A sad ending to a sad story. And right before Christmas too. SMH…
Be the first to receive breaking news alerts and more stories like this by subscribing to our mailing list.