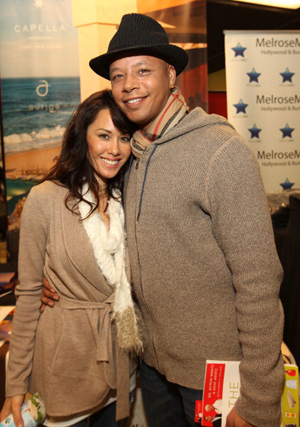 Terrance Howard will be seeing the inside of a courtroom very soon.

The actor's estranged wife Michelle Howard (who filed for divorce in February) has filed court documents claiming he beats on her and threatens to kill her.
According to Michelle, things got so bad one time … Terrence "slugged me across my face and neck" … and even threatened to kill her by throwing her off a balcony!
She claims the abuse continued throughout their relationship, including:
— smacking her in the face and chipping her tooth with his wedding ring
— throwing her down to the ground in a parking lot
— telling her, "I'll hit a woman quicker than I'd hit a man"
— Saying, "If you tell anyone about my personal business, I will kill you and no one will ever know
— Screaming, "B*tch, walk home. That's my car, I pay for it."
Terrence, on the other hand, is denying that he ever threatened Michelle and claims she has been threatening to "release private materials to 3rd parties for her own personal financial gain" unless he paid her money.
TMZ reports that the "private material" in question is a video of Howard singing naked in the shower. (WTF?)
A temporary restraining order has been granted against Howard preventing him from going near or contacting her until their next court hearing.
Wow! This sounds like a lot of unnecessary drama to us … how much you wanna bet she is still going to end up being with him after all is said and done?
Be the first to receive breaking news alerts and more stories like this by subscribing to our mailing list.