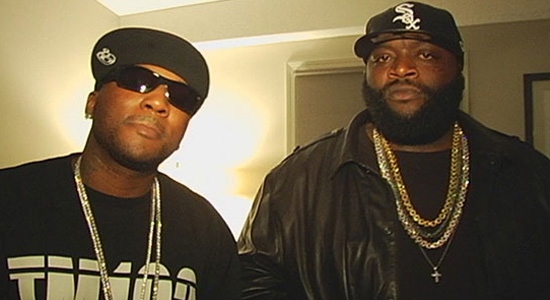 With Young Jeezy's new album TM: 103 Hustlerz Ambition just weeks away from being released, the "Shake Life" rapper has opened up more about his rumored beef with Rick Ross.
In an interview with Sway on MTV"s "RapFix Live", the Snowman revealed most of the drama began when he put out a freestyle over Ross' "B.M.F." track.
"In my mind, in my heart, I just killed the verse. If I killed the verse and you took it personally, then that's on you."
Things then went from what Jeezy says should have been strictly focused on music to the streets.
"I hear things; the streets talk. I'm hearing he reaching out to [Big] Meech and trying to get him to speak bad — that's my brother. When you're trying to bring the streets into rap to prove a point, then you already lost. You separate the two, and that ain't to be played with. You've got people that lost their lives and people that are doing real time. If we gon' make music, let's just make music."
Jeezy feels like the beef all stems from a video posted on WorldstarHipHop taken the wrong way.
"I feel like the whole started thing from a clip on WorldStarHipHop, and my thing was, if I'm a boss and you a boss, let's sit down and be bosses. You take a clip that somebody edited and run with that? What part of the game is that? If you felt like that, hit me up, let's chop it up, we bosses."
To him the whole ordeal is more over selling records instead of personal issues….especially after he attempted to wrap things up with Ross at the BET Awards, but he declined.
"I felt like it was about selling records. It' not about you about me. We could've stepped in the corner and chopped it up. So right then and there, I knew it was about records, so I was cool with it."
Hopefully sometime in the near future…these two can squash all of this and let bygones be bygones.
TM 103 hits stores December 20th.
[MTV News]
Be the first to receive breaking news alerts and more stories like this by subscribing to our mailing list.