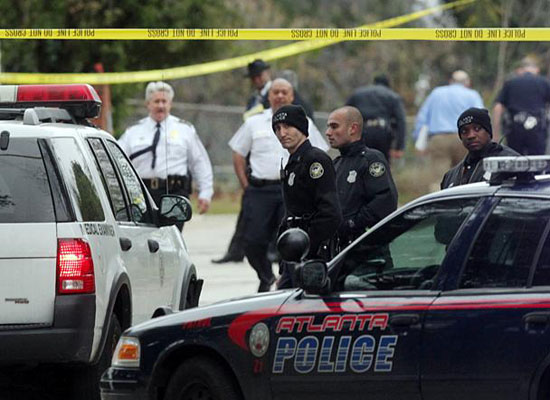 Police shot and killed a woman who they said was stabbing her 4-year-old daughter Monday (Nov 28) in a northwest Atlanta neighborhood.
40-year-old Carulus Hines was shot after she refused to put down a knife she used to stab her daughter, the AJC reported. The little girl, Nalecia Hines, also died at the scene. It was later confirmed by the Fulton County coroner's office that the toddler, who reportedly had down syndrome, died from the multiple stab wounds and was not shot.
Police were reportedly called to Hines' home after her 8-year-old son and adult brother went to a neighbor's home begging for help.
Joe Daniel (the neighbor) said that the boy and his uncle, who lived in the home with the family, asked him if they could use his phone, which is when they explained what happened. They told Daniel that the boy's mother had locked them out of the house and "she was acting up."
The boy also told Daniel that his mother had and threw him out of a window. Fortunately, he only suffered a few minor injuries in the incident.
When police arrived on the scene, they learned that Hines had locked herself in the house with another young child (the boy's baby sister), so they broke down the door and found her seated in a chair stabbing the child, according to police spokesman Carlos Campos.
After Hines, who police described as a large woman who was over 6 feet tall and weighed over 300 pounds, refused to drop the weapon as ordered, officers fired off several shots (around 10 to 16) at the woman killing her instantly.
They also told the man that Ms. Hines had claimed to be God, and said that she could kill the boy and bring him back to life.
Hines' mental problems were no secret amongst the people that lived around her either, the AJC reported.
Neighbors said she would speak of being possessed by demons and would sometimes call out Jesus' name and speak in tongues in her backyard.
"I knew she had some mental issues, I just didn't know this was the extent," her landlady Miyoshi Hill told the AJC.
Ms. Miyoshi, who was in tears after the incident, said that she had been letting the family live in the house rent free.
"Yeah, because of her kids, I just couldn't put her out," she said. "Her daughter was a disabled child. She has Down Syndrome. Things were just really hard for her, I guess."
A few weeks ago when Hill told Hines she couldn't let her continue to stay rent-free, she says Hines became angry and aggressive.
Another woman said that she had seen Hines slap the kids numerous times, and even threatened their lives.
"She said that if they think they can take my kids, I will kill them first," Tyisha Jackson said, adding that when she asked Hines about her kids recently, she took offense and shouted at her, "I'm tired of people asking about my kids!"
"She had a lot of problems with her kids," Jackson continued. "She couldn't feed them or cloth them. The kids always looked raggedy."
Neighbors also said Hines was having some serious financial problems, and would regularly go next door to another neighbor's home to get fresh drinking water, wash clothes and even cook. She was also six months behind on her rent, which was $600 a month.
"I think she just snapped," neighbor Charles Harris told 11 Alive News."'Cause she was by my house [Sunday] around 9:30 saying nine demons came out of her. Nine demons. [She said] that she had been possessed."
Another neighbor said he saw the woman randomly walking up and down the street one day with her eyes closed. She said her dead father told her to do it.
The landlady Miyoshi Hill said she grieves for the children. She said every time she visited, Nalecia would run up and hug her. "She was very smart even though she was a Down Syndrome child. She was very loving," she said.
Hill said the woman's son had been taught to feel responsible for his little sister. "Her brother really loved her [the little girl]. His mother told him to always look out for his little sister."
Hill said after the deaths, the boy told his uncle he had failed at his job.
"I wish I could have done something," she said, remorsefully. "She shouldn't have been in the house anyway. I let her stay too long. I hurt for her child, her son, right now."
Be the first to receive breaking news alerts and more stories like this by subscribing to our mailing list.