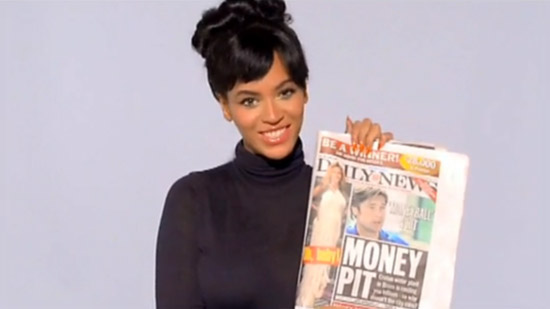 Beyonce has once again sparked questions surrounding her pregnancy with leaked video footage from her upcoming "Live at Roseland: Elements of 4" DVD showing her as 6 months pregnant.
In the video, Beyonce is on the set of her music video for "Countdown" and she's holding up an issue of the NY Daily News with her on the front of the cover with the caption "Oh Baby!"
She says: "Hello! its September 23rd. Oh baby! Oh baby! Oh baby! Oh baby! … This was on the cover of The Daily News. Right now I'm actually shooting the video for Countdown and I'm six months pregnant, pretending that my stomach is flat in body suits. But thank God that you can't really tell from the front. But when I turn to the side … Oh baby! Oh baby!"
Beyonce is a certified TRIP! (LOL)
But anyway … if she was 6 months pregnant in September, then that means that by now, November, she should be about 8 months along … which totally contradicts the original "February 2012" due date everyone has been going by.
What's up with that? Could Baby Knowles-Carter be coming a little sooner than expected? Guess we'll just have to wait and see how this plays out from here.
Beyonce's "Live at Roseland: Elements of 4" DVD hits stores nationwide tomorrow (Tue. Nov 29)!
Watch the clip below:
Be the first to receive breaking news alerts and more stories like this by subscribing to our mailing list.