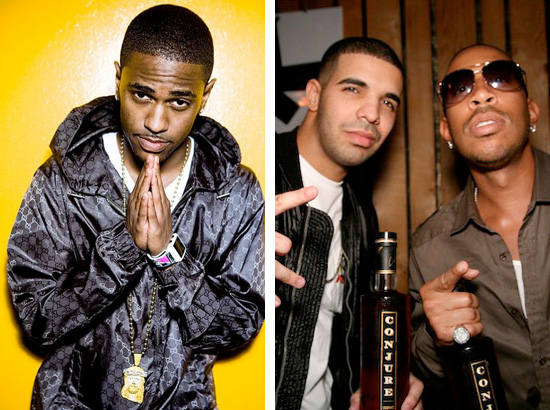 Big Sean has responded to Ludacris' "Badaboom" diss track, in which the Atlanta rapper goes in on Drake and Big Sean for taking subliminal shots at his lyrics and his use of a particular flow style in various interviews.
In an interview with All Hip Hop this past summer, when Drake was asked about the "Supa Dupa" rhyming style that rappers (and even R&B singers now) use in their lyrics, he used lines from a Ludacris song to illustrate what he considered bad usage of the popular style of flow:
"Well, that flow has been killed by so many rappers. And, I never want to use that flow again in life. [Laughs] To be honest, that flow, you can trace it back to like…I trace it back to Big Sean. That's the first guy I heard utilize that flow throughout the duration of a verse. I'll give him that credit. I think Kanye got it from him.

"Me and Wayne found a dope way to do it. I don't want to sound cocky, but the best way its been used was on 'Forever.' Those lines just all individually make so much sense. They're all punchlines. Then a bunch of rappers started doing it and using the most terrible references in the world. I don't want to offend somebody…I hate that rappers picked that flow up. I wish they had left that for people that know how to use it. [They go like] 'It's a parade! MACY'S!'"
Big Sean even gave his two cents on the subject in another interview with MTV:
Don't get it wrong I'm not trying to dis Ludacris or nothing, He's a great MC. But even though that style got so overused, there was a lot of people who did it great and there was a lot of people who didn't do it so great. People always ask me was you mad that people took that style from you. I'm like, 'Nah, that went and shows me how far I can go as an artist.' I feel like I changed hip-hop. I haven't even dropped an album yet. So that goes to show me how powerful my mind is.
Luda obviously didn't take Drake and Big Sean's comments too kindly, so in response, he released a diss track called "Badaboom!" and took several shots at both rappers:
[audio:http://gossiponthis.com/wp-content/uploads/2011/11/ludacris-badaboom.mp3|titles=Ludacris – "Badaboom"]
I'm the truth in this booth and you n**gas all hoes, Counterfeit rappers say I'm stealing they flows

But I can't steal what you never made up bitch, Y'all some duplicate rap cloning n**gas, I manufacture you h*es, put on your makeup bitch

Let me explain, nothing's been new since Big Daddy Kane, Flows'll get recycled, passed around to different names

11 years and still counting, Y'all get a couple hit records, make some noise and have the nerve to start shouting? Who's gassing 'em?

May not like the way I used it, but you know you ain't invent it, boy, Do your research before you make a claim so bogus that's disrespecting pioneers in the game
After listening to the track, Big Sean clarified his statements on Luda's use of the "Supa Dupa" rhyming flow in an interview with Seattle's KUBE 93FM, and said that he has no problems with the veteran rapper.
"I ain't got no problems with Luda, I never did," he said. "I think he's referring to an interview I did over a year ago. Literally over a year ago,. But in the interview I said he's a legend. I respect people who is ahead of me. I respect OG's and the G's in general. The only thing I said, [the interviewers] was telling me about the "Supa Dupa' flow. They call it the 'Supa Dupa' flow because on 'Big Sean' my second mixtape I had a flow on there where I was using one word to describe another word in a punchline form."
He continued, "I feel like Drake made it more popular on that song 'Forever.' A lot of people thought Drake made this up and it was new and Drake said 'I can trace that back to Big Sean on his mixtape.' That's where I first heard it and I think that's where a lot of Mcee's got it from," that's what Drake said. So people were saying 'Yo, this is your flow that you came up with' and I was like okay."
"I don't have any issue with Luda," Big Sean said. "I didn't even know he cared that much for a year to be still thinking about what I said in an interview. It's not like I was like, "Luda is weak." I think Luda is a legend and one of the best. I'm not going to front."
When asked if he thought Ludacris released the song as a means to maintain his ow relevancy, Big Sean responded, "Yo, I couldn't even tell you why another man would do that. I think people just want to see some beef … Luda is Luda. I don't really know Luda like that so I can't say anything but I don't have anything against him. I'm surprised he cared so much. Somebody that's been in the game that long, I didn't think that they would be hanging on to what people say so much."
Listen to the entire interview below:
Be the first to receive breaking news alerts and more stories like this by subscribing to our mailing list.