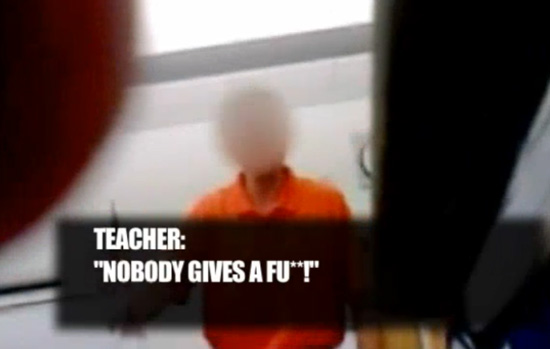 A special needs student from New Jersey told his parents that he was being bullied at school by his teacher (of all people). But they didn't believe him until he showed them video footage (that he recorded!) of the teacher cursing him out, threatening him and calling him names. Now that teacher is on paid leave until the school district's investigation is finished.
Read more below:
No one believed 15-year-old Julio Artuz when he said he was being bullied by a teacher at school — not even his parents.

So the special needs student sought proof, by filming an encounter with said teacher at Bankbridge Regional School in New Jersey, NBC10 reports.

"Don't call me special," Artuz told the teacher.

"What? Oh my god, f-ing. What does the sign on the front of the school say? Special education," the teacher yelled back.

Artuz defended himself by saying that when he got out of the school, the teacher couldn't call him special anymore. In response, the teacher made a threat.

"…I will kick your a– from here to kingdom-come until I'm 80 years old."

In a statement to NBC10, the school district said officials take allegations of harassment seriously and are carrying out an investigation.

"The actions depicted on the video do not reflect the mission or culture of our school," according to the statement.

The teacher is on paid leave until the investigation concludes and would not respond to the station's request for comments.
Be the first to receive breaking news alerts and more stories like this by subscribing to our mailing list.