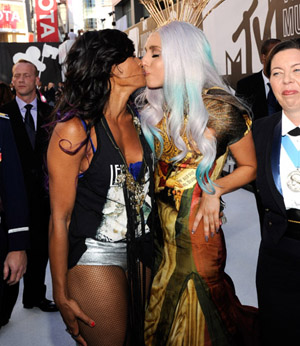 Lady Gaga and her creative director Laurieann Gibson have parted ways following a "bitter fight," The Hollywood Reporter confirmed this week.
Gaga and Gibson had been working together since the beginning of Lady Gaga's career, with Gibson having helped Gaga with her "Monster Ball" Tour and several music videos.
But recent reports suggested that the pair's relationship began to falter earlier this year over their differing appearances regarding the production of Lady Gaga's music videos for "Edge of Glory," "You and I" and "Judas."
A popular gossip site originally reported that the pair had a "bitter fight" over Gibson's ego, which had apparently gotten out of control, and now it's being confirmed that Gaga and Gibson will be going their separate ways.
Gibson's No. 2, Richard Jackson, is now taking over choreographing duties for Gaga, as confirmed by a tweet from the pop star earlier this month.
"Warming up with my choreographer Richard Jackson, singing + pinning garments till the last moment. So excited for The Night, gonna Marry It," she tweeted.
Lady Gaga just performed her new single "Marry the Night" on the the UK's "X Factor."
Watch below:
Be the first to receive breaking news alerts and more stories like this by subscribing to our mailing list.