Willow Smith and Nicki Minaj have teamed up once again, this time for the video for their new single "Fireball."
Decked out in a leather jacket, combat jeans and boots, 11-year-old Willow was spotted alongside an even more eccentrically dressed Nicki Minaj (with her pink wig and a dress made of stuffed animals) over the weekend in Los Angeles to shoot the video for the song, which is set to feature on Willow's upcoming debut album.
Willow's famous parents Will Smith & Jada Pinkett Smith, as well as her big brother Jaden, were all reportedly on set cheering her along.
Willow has already released two moderately successful singles, and says she was excited to learn that she was working with Minaj on a third one.
Talking about their collaboration, Willow gushed to Access Hollywood:
"It was really great because the first time I heard her on the actual track, I was like 'Who's that?' And they said 'Oh, it's Nicki.' I said 'Oh my gosh, that's so great!' I just got really excited so I'm really grateful for that. We recorded [the song] in two different places, so I got to meet her at the BET Awards and it was really cool. She wore her little skeleton outfit and I was like 'Aw, that's really cool!'"
Willow said that when she first met Nicki, it was a brief encounter just as the rapper was making her way to the stage to perform, so the duo didn't get a chance to discuss a duet.
So when Willow's people told her that Nicki agreed to rap on the song, it was a total surprise.
"It was a surprise for me," she recalled. "They told me she was going to be on it, but I was like 'That's not gonna happen.' Then later on, they told me 'She's on the song' and I was like 'That's awesome!'"
But apparently Willow isn't in the only one excited about their collaboration. Nicki Minaj tweeted a candid photo of herself from the set posing with the Smiths along with the following message:
"I'm the newest member of the family! Lmaoooooo. How cute are they barbz???? Willow goin ham in the video."
More photos (and video footage) from the shoot can be found below: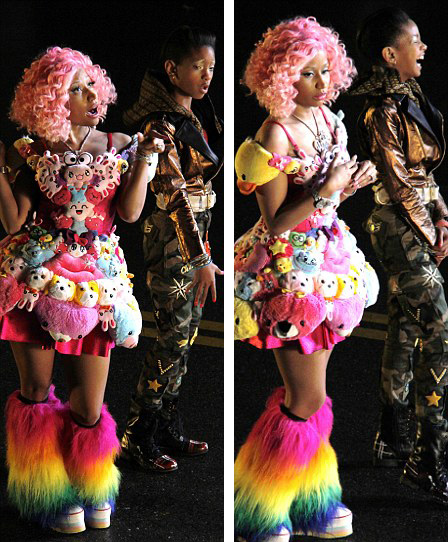 Be the first to receive breaking news alerts and more stories like this by subscribing to our mailing list.