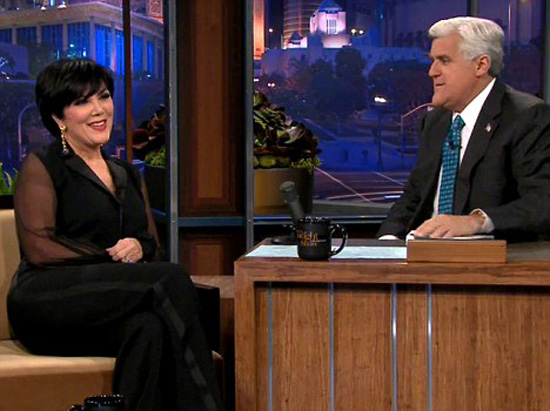 Kim Kardashian may have made a couple of mistakes when it comes to her own marriages, but apparently, her mom Kris Jenner has had some marriage problems of her own.
Momma Kardashian recently revealed in an interview with Jay Leno how the affair she had while she was married to Kim, Kourtney, Khloe and Rob's father, the late L.A. attorney, Robert Kardashian, is the "biggest regret of my life."
Jenner appeared on "The Tonight Show with Jay Leno" to promote her new memoir "Kris Jenner .. And All Things Kardashian," where she details the affair that ruined her marriage and eventually led to her 1990 divorce from Robert Kardashian.
"He was the only guy that I had dated," the 56-year-old momager told Jay Leno of her first husband, whom she met when she was just 18 years old.
"When you're very young you do a lot of stupid things. and it's probably the biggest regret of my life that I ended up having an affair. [I was] probably just really naive and stupid and restless and didn't realize that marriage has its ups and downs," she explained. "Someone once told me that it's like a roller-coaster, just ride it out, but I wasn't really old enough to hear those words."
In an excerpt from her book, she details the love illicit affair, writing:
"I don't know why I was having a mid-life crisis at 30, but I was. His name was Ryan and he was a producer. We had wild sex everywhere, all the time. One morning, Robert had me followed. He found us at a restaurant."
When she and Mr. Kardashian divorced, "We told our kids together," she writes. "They started at us, unbelieving at first, and then the waterworks."
Robert Kardashian, who famously represented O.J. Simpson in his 1995 murder trial, died in 2003 after a battle with cancer at the age of 59.
Kris later went on to marry Olympic champion Bruce Jenner, with whom she has two kids, 16-year-old Kendall and 14-year-old Kylie.
The couple, who married just five months after they were set up on a blind date, recently celebrated their 20th wedding anniversary.
Be the first to receive breaking news alerts and more stories like this by subscribing to our mailing list.