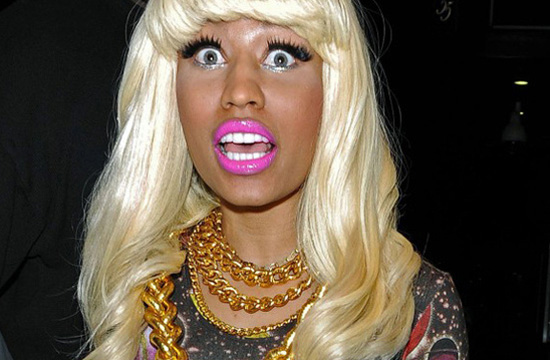 A beautician alleges she felt the wrath of Nicki Minaj when the rapper was left unsatisfied after having her eyebrows and lip waxed recently.
Dawn LaLuise, a celebrity facialist, says Nicki Minaj yelled and threw money at her before storming out of her Dawn DaLuise Skin Refinery clinic in L.A.
"After I waxed her eyebrows and lip, she started screaming, 'Who the f**k do you think you are? Look what you did to my damn face! You think this s**t is worth $170?' It's a shame when you see a darling girl turn into a temperamental diva," Dawn told tabloid Star Magazine.
But Dawn claims this isn't the first time she witnessed Nicki Minaj's wrath. She recalled, "I arrived at her condo one afternoon, her eyes were dilated, her wig was falling off, her face was covered in red sores and she was perspiring heavily. She was swearing and screaming at her assistant."
Dawn's allegations against Nicki Minaj comes just weeks after police were called to the 28-year-old rapper's home following an argument with a hired maid.
Two weeks before the incident, Nicki fired one of her workers after they took a picture out of the rapper's trash and asked her to sign it. When a new maid was sent to the house, Nicki mistook her for the other woman, leading to an altercation.
After the new maid refused to leave, she reportedly told Nicki that she refused to be "treated like an animal," to which Nicki replied, "I'll show you how to treat someone like an animal … get the f**k out of my house!"
Sounds like Nicki Minaj has some serious anger issues to us!
What do you think?
Be the first to receive breaking news alerts and more stories like this by subscribing to our mailing list.