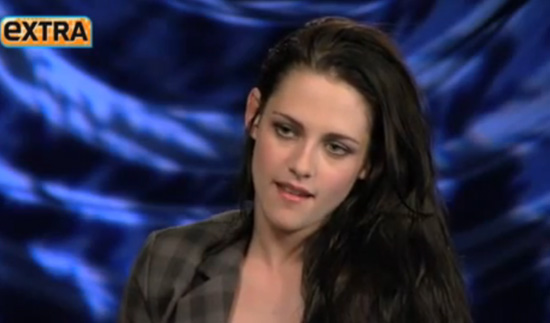 Kristen Stewart couldn't care less about Kim Kardashian and her divorce from Kris Humphries.
While sitting down recently for an interview with "Extra," a joke about Kim Kardashian's 72-day marriage went completely over the "Twilight" actress's head. Probably because she's just too damn busy to worry about Kim Kardashian and her extreme attempts for publicity.
While interviewing Kristen Stewart about the big wedding scene in The Twilight Saga: Breaking Dawn, Part 1, Terri Seymour must have thought she was being witty by throwing in the reference, "And we're all hoping that Edward and Bella and last longer than 72 days." But Kristen didn't get the joke and just responded, "Well, sure." (It starts around 1:15.)

Later in the interview, she caught on that this was a pop culture thing and asked one of her people. Her hand-slap of recognition — remembering that they were joking about Kim Kardashian's short-lived marriage — is kind of adorable, and she confesses, "Suddenly I'm like, 'Have I just been a huge asshole?'"
Watch the clip below (at the 1:10 mark):
Be the first to receive breaking news alerts and more stories like this by subscribing to our mailing list.