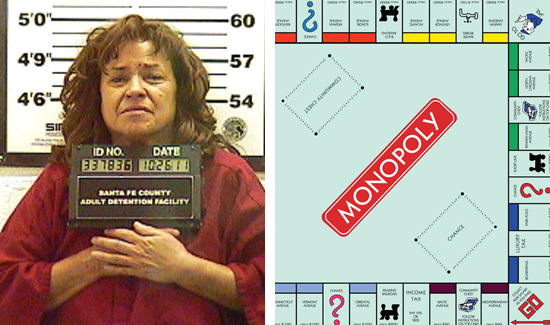 Board games can get pretty intense sometimes … but a 60-year-old New Mexican woman went overboard when she repeatedly stabbed her boyfriend after accusing him of cheating at Monopoly.
An intoxicated Laura Chavez and her equally drunk boyfriend were playing the world famous board game at her Santa Fe, NM apartment with her 10-year-old grandson when she noticed her boyfriend Clyde "Butch" Smith cheating.
So Chavez sent her grandson upstairs, grabbed a kitchen knife and attempted to play Fruit Ninja with Smith's face.
The man, who cops found bleeding heavily from wounds on his head and right wrist, was hospitalized yesterday in stable condition. Smith told investigators that Chavez first hit him over the head with a glass bottle and then "grabbed a knife and began cutting him, causing injuries to the top of his head, neck, left eye brow and right wrist area."

When cops arrived at Chavez's building, she was sitting under the porch "covered with suspected blood." Asked if the blood was Smith's, she answered, "Yes, I fucked him up."
Chavez was immediately sent to jail (without passing Go and/or collecting $200) on charges of aggravated battery with a deadly weapon and is currently being held on $5,000 bond.
Be the first to receive breaking news alerts and more stories like this by subscribing to our mailing list.