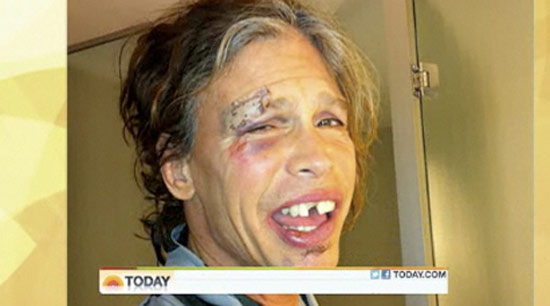 When Steven Tyler fell and broke his face at a Paraguay hotel earlier this week, many assumed the rock legend had fallen due to a drug relapse.
But the Aerosmith rocker and "American Idol" judge assures his fans that the spill was an accident due to food poisoning, and NOT a drug relapse.
"I get that people think that," he said in a phone interview with the 'Today' show yesterday. "It still bothers me a little, but it's something I'll have to deal with for the rest of my life."
"I started to get sick and I fell on my face and I just passed out," he said. "I woke up with the water running on me … and the next thing you know my tour manager was calling the American Embassy and we found the best hospital."
Tyler spent almost four hours receiving stitches and emergency dental work at a medical center in Asuncion, Paraguay.
"It was like one-stop shopping," he told 'Today' show co-host Matt Lauer. "They stitched up my eye. They did a little plastic surgery. And they fixed my tooth. All in one fell swoop."
Due to the unfortunate accident, Tyler's scheduled concert with Aerosmith was postponed for a day, but the show went on without a hitch the very next night, shiny black-eye, new teeth and all.
"Short of having my leg taken off, people are going to expect me to hit the stage no matter what," he said.
Be the first to receive breaking news alerts and more stories like this by subscribing to our mailing list.