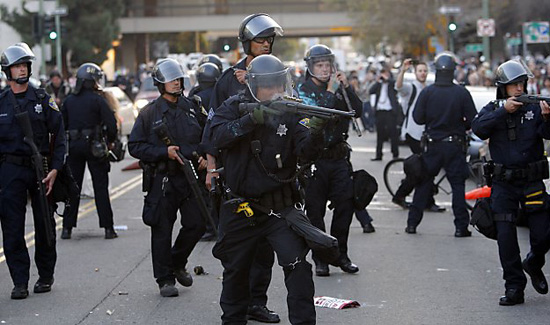 Occupy Oakland turned into a war-zone yesterday after riot police fired tear gas at least 5 times and also shot off rubber bullets (hitting one guy in the face) at the crowd of protestors in an attempt to retake the area outside Oakland City Hall.
City officials recently warned the protestors, who had been camped out since October 10th, that their impromptu residency in the Frank H. Ogawa Plaza was illegal, and they could be arrested
After each tear-gassing, the protesters regrouped, with some throwing paint, bottles and other missiles at police decked out in riot gear.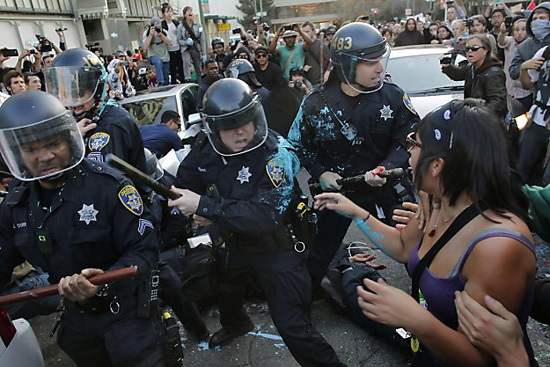 A police spokesman says they had no choice but to use extreme measures (such as tear gas) to protect officers, two of whom were injured by the paint and chemicals protestors hurled at them.
"We had to deploy gas to stop people from throwing rocks and bottles at police," Interim Police Chief Howard Jordan said, adding that he wasn't sure about the other crowd-control methods that were used by outside police agencies.
Authorities also denied reports claiming they used flash-bang canisters to break up the crowds, saying the loud noises came from large firecrackers.
Occupy Wall Street is a movement about ending corporate greed and flushing money out of politics that started in New York a little over a month ago. Since then, protestors have been setting up camp to demonstrate in various public venues all over the country.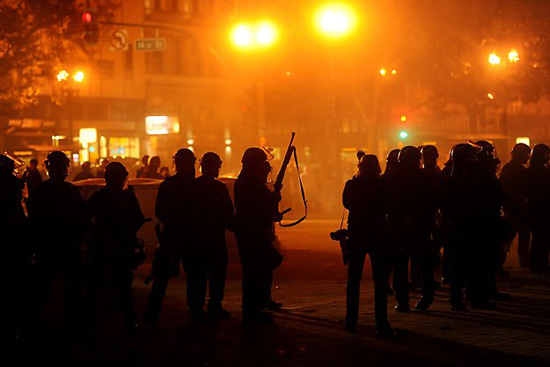 Oakland Mayor Jean Quan said in a statement that many Oaklanders are in support of the goals of Occupy Wall Street, and that the city of Oakland would make the plaza available for "peaceful protest" during park hours.
However, conditions had recently become unsafe and unsanitary, and the protestors were asked to leave. After they didn't comply, police descended on their camp, overturning tents and stalls, and ripping up cardboard signs.
Initial police reports indicate that the raids went quickly and smoothly, however, one officer claims more protestors attacked them with bottles, skillets and plates, while changing "Police go home! Cops go home!"
Inside Bay Area reports that another smaller Oakland camp nearby was similarly dismantled, and seven protestors were also arrested in San Jose.
Carlos Villarreal, a spokesman for the National Lawyers Guild, which represents the protesters, told ABC News Bay Area affiliate station KGO that two protestors suffered broken hands when they were forcefully arrested, and one protestor was taken to a nearby hospital with head injuries.
Be the first to receive breaking news alerts and more stories like this by subscribing to our mailing list.