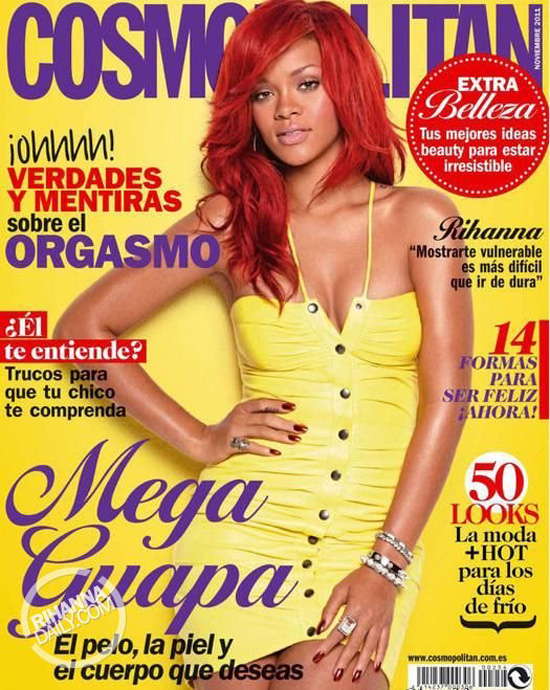 Rihanna wears a sexy canary yellow dress as the covers the latest issue of Spain's Cosmopolitan Magazine.
In other Rihanna news, the Pop star has reportedly settled with famed photographer David LaChapelle after he sued her for $1 million earlier this year on claims that scenes from her raunchy "S&M" video were stolen from his past work.
In the suit against Rihanna and her label Def Jam, Chapelle alleged that the video copied his poses, lighting, wardrobe and props.
"I like RiRi," LaChapelle said when launching the suit earlier this summer. "This is not personal, it's strictly business. Musicians commonly pay to sample music or use someone's beats and there should be no difference when sampling an artist's visuals."

After Manhattan federal Judge Shira Scheindlin said in July that the surrealist shutterbug "successfully alleges" that the songstress and her video director may have copied his images, now we're exclusively told Rihanna has settled the case for an undisclosed sum.

Jaret Keller, LaChapelle's publicist, confirmed Rihanna had settled the case but declined to comment further. He said, "David is happy with the settlement."

LaChapelle is famous for his surreal and sexualized portraits of celebrities including Madonna, Paris Hilton, Angelina Jolie, Pamela Anderson and Lady Gaga.

His suit argued that the video is "directly derived from and substantially similar to'' eight photographs he created, including a dominatrix walking a chained man on a leash, a woman in latex headgear and Gaga wearing newspaper headlines.
The court agreed the video's "pink room scene," which featured the star dominating a man in front of pink-and-white striped walls, was similar to LaChapelle's "Striped Face" photograph.

[P6]
Be the first to receive breaking news alerts and more stories like this by subscribing to our mailing list.