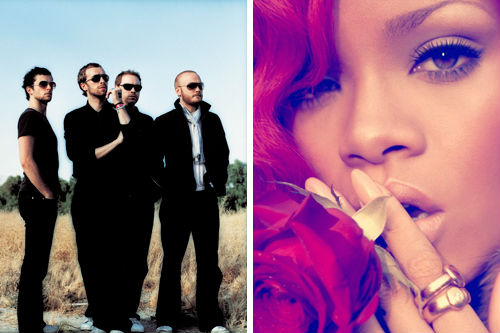 Coldplay teamed up with Pop diva Rihanna for a new song called "Princess of China" that will appear on the rock group's upcoming fifth studio album "Mylo Xyloto," due in stores one week from today (Oct 25).
"[Rihanna's] bit on our record is my favorite bit … when the song came out, it sort of asked for her to be on it," Chris Martin told MTV last month. "And I think at this point, we have nothing to lose, and so we've been trying some new things and trying to break down the perceived boundaries between different types of music. … Because from where we're sitting, it seems like you can try and sound any way you like nowadays. You don't have to be in a rock box or a hip-hop box or a pop box, and I think it's fun when you embrace that idea."
Take a listen to Coldplay's "Princess of China" (featuring Rihanna) below!
[audio:http://gossiponthis.com/wp-content/uploads/2011/10/coldplay-rihanna-princess-of-china.mp3|titles=Coldplay F/ Rihanna – "Princess of China"]
Be the first to receive breaking news alerts and more stories like this by subscribing to our mailing list.