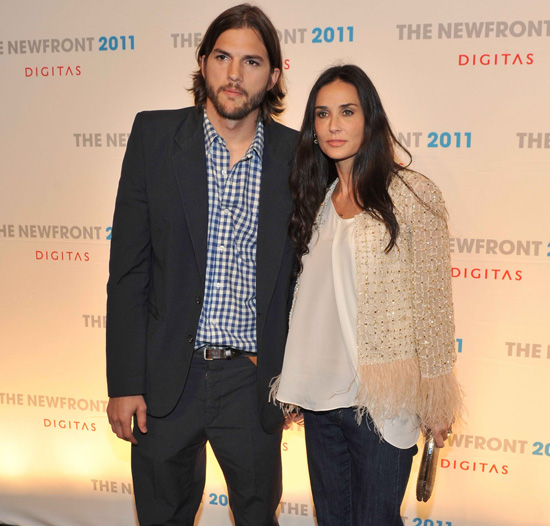 The marriage between Ashton Kutcher and Demi Moore is said to be collapsing following reports that the "Two and a Half Men" star cheated on his wife with a 22-year-old model named Sara Leal.
Moore has already reportedly consulted a lawyer about her marriage to Kutcher, who is 15 years her junior, after Kutcher allegedly had a one-night stand with Leal in San Diego on September 24th (their 6-year wedding anniversary).
According to the latest issue of US Weekly, Kutcher told Leal that he and Moore were separated. But that didn't stop them from making out on a balcony hot tub and eventually having unprotected sex twice at the Hard Rock Hotel in San Diego.
In an incredibly futile attempt to "work things out," the couple took a camping trip together with friends in Santa Barbra a couple of weekends ago, but "they seemed cold to one another," a witness told US Weekly.
Just this past Thursday, a moving truck was spotted pulling out of the Los Angeles-area home Ashton and Demi share together, further proving that their marriage is on the rocks.
A neighbor of Demi, 48, and Ashton, 33, told HollywoodLife.com:
"I don't think Ashton is living at the house anymore. I haven't seen him for over two months. I used to see him every once in a while and now I never see him. I saw Demi last week with her daughter Rumer, but as far is Ashton is concerned, I think he's living at another place."
Another neighbor said:
"It wasn't unusual for Demi and Ashton to have get-togethers on the weekend. They would have BBQs and intimate parties, but I don't think they have had any gatherings for at least three months. It's sad because they always seemed like such a happy couple!"
Despite all of the drama surrounding his now troubled marriage, Ashton put on a brave face Saturday night (Oct 15) as he attended Bill Clinton's "Decade of Difference" charity event without his wife, who is said to be "devastated" about the whole situation.
An industry insider told The Daily Mail:
"Demi's entire group of family, friends and co-workers are telling her to move on. But she's a wreck – embarrassed and devastated about how she's been betrayed, but really torn. If she goes through with a divorce, the gossip is bound to be pretty cruel about how she couldn't keep hold of her boytoy. She's always perceived herself as being strong, but she also has a very natural fear of starting over again at 48, alone."
Around this time last year, a 21-year-old student told Star Magazine that she had slept with Ashton at he and Demi's home while Demi was out of town shooting a new movie. The couple quickly shot down those reports though, calling them a "defamation of character" and said that the magazine was "writing fiction."
Now, just one year later, with the newest infidelity reports floating around, you have to wonder if Star really was "writing fiction," or simply telling a story Ashton was trying to keep hidden.
Do you believe the rumors accusing Ashton Kutcher of cheating on Demi Moore?
Be the first to receive breaking news alerts and more stories like this by subscribing to our mailing list.