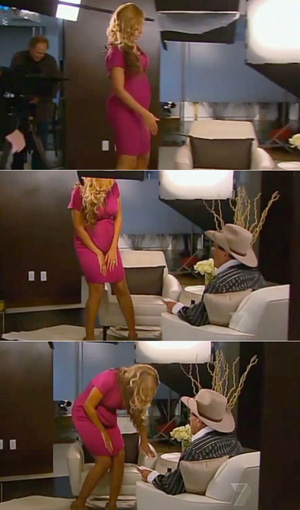 Is Beyonce faking her pregnancy, and therefore wearing a "prosthetic" baby bump to keep the charade up?
That's the question on the minds of a lot of people after the pregnant singer's purported fake baby bump "collapsed" (or so they say, lol) on live television.

Over the weekend, Beyonce appeared on Australian TV show Sunday Night HD. And as she leans over to sit down for an interview, it appears as though her baby bump buckles and folds into her dress like a cushion.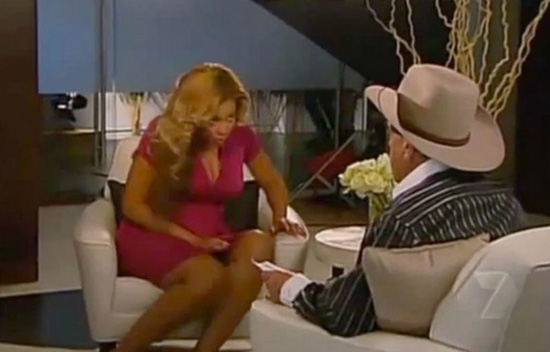 Sandra Rose wrote the following on her blog:
So there was Bey sitting down on the set — and there was her prosthetic baby bump, folding, crumpling and collapsing in full, vibrant high definition!

Luckily, the prosthetic is that memory foam type that bounced right back into shape. Rumor has it that Beyoncé is wearing a fake prosthetic while her unknown surrogate carries her baby to term.
A few other sites have even joined in on the "Is Beyonce wearing a fake baby bump?" fun, like DListed, ONTD, Gawker and even that other website.
But all of this raises the billion-dollar question: Why on earth would Beyonce, as huge and successful as she is, fake a pregnancy? And if she is faking her pregnancy … how in the world does she expect to get away with it?
Anyway, fake baby bump or not, in the interview, Beyonce confirms that she is due to give birth this coming February.
Watch the full interview below:
Do you think Beyonce is faking her pregnancy?
Take the poll below, and/or leave us your thoughts in the comments!
Be the first to receive breaking news alerts and more stories like this by subscribing to our mailing list.