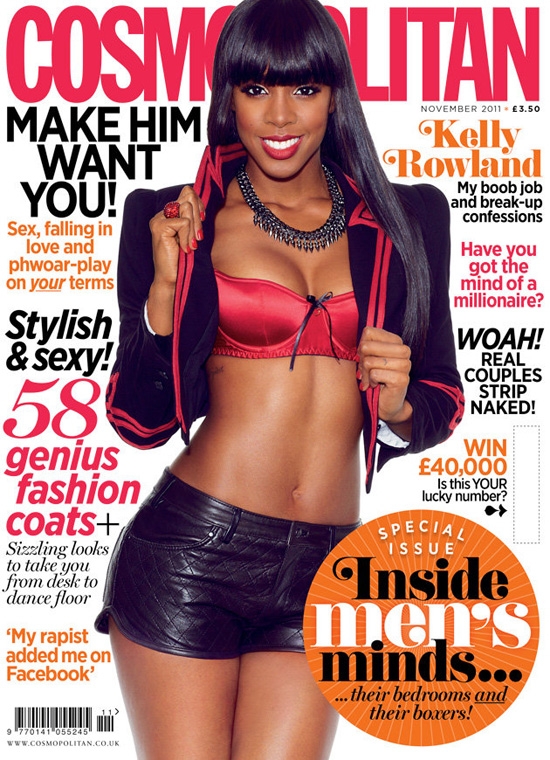 Kelly Rowland is pretty in hot pink on the cover of the latest issue of Cosmopolitan Magazine, where the 30-year-old R&B singer and "X Factor Judge" dishes on having a boob job back in 2007 because she was sick of her "little nuggets" and her relationship with her father, who she claims she hasn't seen in almost 2 decades.
Rowland also talked about being single and she even opened up about her very public break-up with her fiance, footballer Roy Williams, back in 2005.
See what she had to share with Cosmo below:
On having a boob job in 2007:
"The decision was 10 years in the making, so I'm comfortable talking about it. It's something I really wanted to do for myself – not for a man, not for work, for myself. And I love them!"

On her relationship with her father:
"I haven't seen my dad for almost 20 years. It's nothing I want a pity party for. He left me and my mom, and I was angry. I wanted to be a daddy's girl so bad. God damn The Cosby Show because that made me think, 'Why isn't my family like that?' But this is not a perfect world. He reached out to me saying he wanted to see me, but it's unfortunate he did it so publicly."

On being single:
"Before, I'd want to lean on somebody. Now I love the fact that I can just be a single lady, chilling and hanging with my friends, and traveling the world. It's a pretty good life. I'm ready for marriage when the right time comes now, though."

On her former "relationship" (and possible marriage) with football player Roy Jones:
"I was too young for marriage. I remember my sister B [Beyonce] asked me one question. She said, 'Well, you know what you want now, don't you?' and I was like 'Yes'. It was so hard and embarrassing because everyone knew. I'd posed for the front cover of a magazine in my wedding dress and it was on sale! But sometimes you fall down and you learn from it."
Be the first to receive breaking news alerts and more stories like this by subscribing to our mailing list.