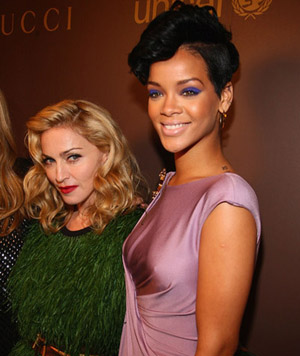 Rihanna has made Billboard history after her latest single "We Found Love" shot from No. 16 to No. 9 on the Hot 100 chart in its second week, making this her 20th Top 10 single, and beating Pop Queen Madonna as the fastest solo artist to reach 20 Top 10 Hot 100 singles.
Rihanna's first single to enter Top 10 territory was "Pon De Replay" (which peaked at #2 in 2005).
It only took Rihanna 6 years and 4 months to reach 20 Top 10 singles, while it took Madonna 6 years and 9 months (just 5 months longer).
Billboard.com reports:
Among all acts, Rihanna's run to 20 top 10s is the second-fastest. Only the Beatles sprinted to the sum more quickly, taking just two years, seven months and one week between their chart entrance with "I Want to Hold Your Hand" (Jan. 18, 1964) and "Yellow Submarine," which sailed 52-8 the week of Aug. 27, 1966. The Supremes are pushed to third-place among all artists, having collected their 20 career top 10s in a span of six years, five months and one week in 1964-70.
Rihanna is the 14th artist to have 20 Hot 100 Top 10 singles and is just the fifth woman to earn the honor.
Madonna leads the pack of talented ladies with 37 Top 10s, the highest ever for ANY artist, followed by Mariah Carey and Janet Jackson (with 27 each), and Whitney Houston (23).
Pretty impressive!
Be the first to receive breaking news alerts and more stories like this by subscribing to our mailing list.