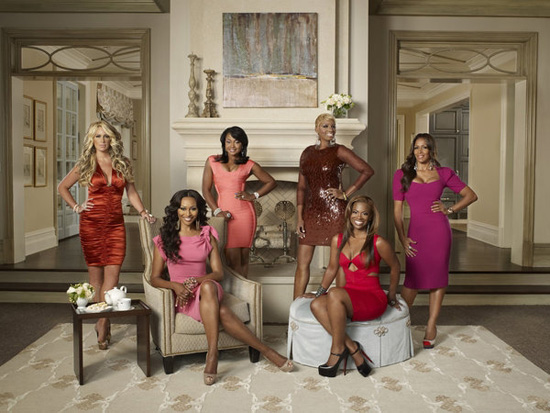 They're baaaaaaaaack!
The Real Housewives of Atlanta will premiere their upcoming 4th season in a little over a month, and Bravo has released a sneak peek trailer to let us know what to expect from Nene, Kim, Sheree, Cynthia, Kandi and Phaedra this time around.
In the new season, Kim is pregnant, madly in love and building a home with Kroy, while her estranged friend NeNe is on the verge of divorcing her husband Greg.
Kandi, Phaedra and Cynthia are exploring their prowess as entrepreneurs (Kandi with sex toys, Phaedra with funeral homes and Cynthia with modeling school), and Sheree is trying to build a dream house, however the pieces aren't coming together smoothly for her.
Look below for more details on and pics of each cast member and for the official trailer for Season 9 of the Real Housewives of Atlanta!
NeNe Leakes – This season, NeNe and Gregg have officially separated. Though Gregg no longer lives with NeNe and the boys, they have a complex relationship. NeNe struggles with her decision on whether or not to sign the divorce papers and truly move on from their 15-year relationship. Since her experience on Celebrity Apprentice, NeNe has realized she has a knack for business and uses one of her Trump connections to pursue an entrepreneurial endeavor.
Kim Zolciak – As her psychic predicted, Kim's life has changed dramatically for the better. Kroy adores Kim, her daughters and is a loving father to baby KJ. Though they have established a new life together, Kroy has to return to the NFL, leaving Kim to get their new house in order and tend to three children. To add to her juggling act, Kim is pursuing a country music career without the help of Kandi.
Sheree Whitfield –Sheree has recently moved out of her home and is building a fabulous new house for her family in the same upscale neighborhood. Frustrated with her ex-husband for not paying the 4 years of child support he owes, Sheree takes action against him with legal help from her friend and fellow Housewife, lawyer Phaedra Parks.
Kandi Burruss – After a year spent recording and touring to support her solo album, Kandi has shifted her focus to a new endeavor: an intimate luxury line. She's also switching gears with music and focusing on writing country hits for a popular artist.. While she has yet to find Mr. Right, Kandi is spending more time than ever with Mama Joyce. Ever the mediator, she remains close with the other Housewives.
Phaedra Parks – With baby Ayden growing up so quickly, Phaedra is realizing her parenting style is different than expected. Once a firm believer in "spanking" a child, she has become a doting mom who tends to annoy Apollo by babying their son. Phaedra continues to work hard at the law firm and has begun her next business venture: a family-run funeral home. Her only hurdle before becoming a certified mortician: convincing Apollo of the benefits of this new undertaking.
Cynthia Bailey – At 44 years old, Cynthia is still a working model and is using her decades of experience to help the next generation. By opening The Bailey Agency School of Fashion, Cynthia seeks to teach Atlanta's most promising girls about the industry. Her marriage to Peter is barely one-year along, but the shadow of the marriage-certificate wedding debacle still hangs over the Bailey-Thomas household. Cynthia's sister Malorie and Peter still haven't addressed her attempted wedding sabotage and Cynthia finds herself in an uncomfortable position between her husband and her sister.
Be the first to receive breaking news alerts and more stories like this by subscribing to our mailing list.