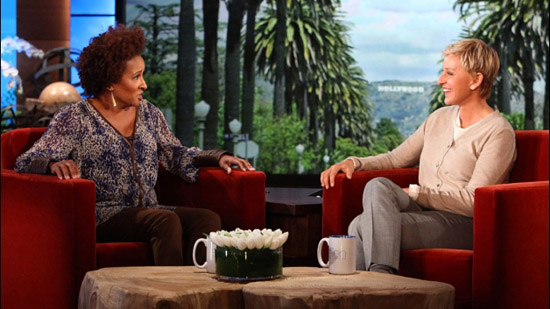 She's known for making people laugh, but what Wanda Sykes revealed during a recent appearance on The Ellen DeGeneres Show was no laughing matter.
Sykes admitted for the first time that earlier this year, she had breast cancer and to get rid of the condition, she had both of her breasts removed.
"I had breast cancer," says Sykes, 47. "Yeah, I know it's scary."

The cancer was found after she had undergone what was essentially a cosmetic procedure, to have a breast reduction.

"This was in February. I went for the reduction. I had real big boobs and I just got tired of knocking over stuff. Every time I eat … Oh lord. I'd carry a Tide stick everywhere I go," she quips. "My back was sore so it was time to have a reduction."

She continues, "It wasn't until after the reduction that in the lab work, the pathology, that they found that I had DCIS [ductal carcinoma in situ] in my left breast. I was very, very lucky because DCIS is basically stage-zero cancer. So I was very lucky."

As she is quick to point out, "But cancer is cancer. I had the choice of, you can go back every three months and get it checked. Have a mammogram, MRI every three months just to see what it's doing. But, I'm not good at keeping on top of stuff. I'm sure I'm overdue for an oil change and a teeth cleaning already."

On top of which, "I have a lot of breast cancer history on my mother's side of the family."

This latter fact prompted Sykes to reach a dramatic decision, "to have a bilateral mastectomy," she says. "I had both breasts removed … because now I have zero chance of having breast cancer."

Explaining her choice, she says, "It sounds scary up front, but what do you want? Do you want to wait and not be as fortunate when it comes back and it's too late?"

When it came to speaking out about her past few months, Sykes, the mother of nearly 2½-year-old twins with her wife, Alex, tells the talk-show host, "I was like, I don't know, should I talk about it or what? How many things could I have? I'm Black, then Lesbian. I can't be the poster child for everything."

With a laugh, she notes, "At least with the LGBT issues we get a parade, we get a float, it's a party. [But] I was real hesitant about doing this, because I hate walking. I got a lot of [cancer] walks coming up."

As DeGeneres states, "I just admire the hell out of you."
You gotta love Wanda Sykes for still being able to laugh and crack jokes after all she's gone through this year.
Be the first to receive breaking news alerts and more stories like this by subscribing to our mailing list.