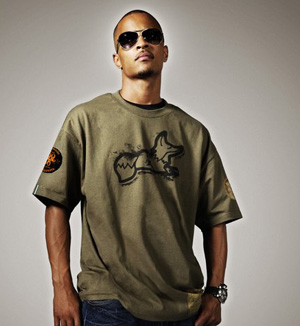 Usually being incarcerated, released, sent back to jail and having legal woes through the roof — all in a span of a couple of years — would discourage most people. But that's not the case when it comes to recently freed rapper T.I.
Since being imprisoned in 2010 for violating the terms of his probation by being found in possession of ecstasy, the Atlanta native's Akoo Clothing Line saw sales increase by almost 25%!
But that's not the only good news T.I. and Akoo are celebrating this week.
According to AllHipHop.com:
Atlanta rap star T.I. scored a major victory in court last week in the battle over the trademark to his Akoo Clothing line.

Akoo International filed a trademark infringement lawsuit against T.I. in March of 2010, after a controversial billboard ad in Newark, New Jersey created controversy in the city. The ad featured a young woman kneeling in front of a man, pulling down his Akoo jeans, with her tongue sticking out.

The racy billboard advertisement was condemned by the city's mayor, Cory Booker and was eventually taken down, due to negative press and pressure from local activists.

On Friday, a federal judge refused to grant Akoo International an injunction against T.I.'s clothing line, which would have barred the rapper from using the name in commerce and immediately halted sales. The judge ruled that Akoo International has not presented enough evidence to prove that consumers are being confused by the names.

Although the lawsuit is ongoing, the judge allowed T.I.'s Akoo Clothing line to continue to use the Akoo trademark.
We're going to take this one from Charlie and give it to T.I. cos he's definitely "#Winning!" right now, despite all the legal issues he had this past month regarding his prison release.
T.I., currently serving the rest of his "time" at a halfway house in Atlanta, will finally be a FREE man next Thursday (Sep 29), but will still have to serve out a year of probation.
Be the first to receive breaking news alerts and more stories like this by subscribing to our mailing list.