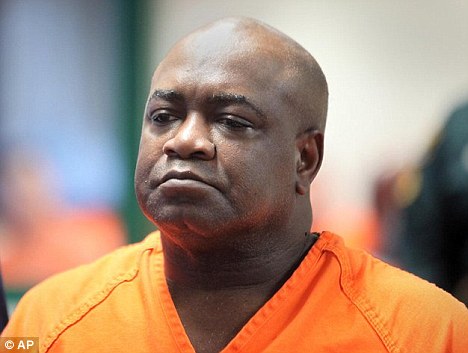 A man from Florida opened fire in the middle of a church's prayer service Sunday morning (Sep 18) and shot the pastor right in the head as he prayed … just moments after he MURDERED his wife back at home!
And get this. Turns out … this guy was also convicted of "accidentally" killing his first wife 25 years ago!
A gunman who allegedly killed his wife and shot two pastors in a church on Sunday killed his previous wife 25 years ago, court records have revealed.

Jeremiah Fogle, 57, was tackled by people attending a prayer service in Lakeland, Florida yesterday, who took his .32-calibre revolver and held him down. Pastor William Boss was shot in the head as he prayed. Associate pastor Carl Stewart was shot in the shoulder, head and back, authorities said.

Fogle and his wife Theresa Brown Fogle, 56, married in 2002 and once attended Greater Faith Christian Center Church as members. But they had not been for several years and had started their own ministry out of their house, regularly hosting their own Sunday services.

Today it has been revealed he pleaded guilty to manslaughter in the death of his wife, Diane, but was only sentenced to 10 years' probation in 1987. He allegedly answered the door with a rifle and showed a police officer her body in 1986. Prosecutors reduced the charge from first-degree murder. He handled the rifle in a 'negligent, careless and reckless manner,' authorities said at the time. It's not known why the charge was lessened.

On Sunday, Mrs Fogle's husband had allegedly walked to the church from their home nearby. She was later found dead in the living room by officials.

He entered through the front door of Greater Faith Christian Center Church, walked down the centre aisle and shot the men, police said. Fogle was then allegedly restrained by other parishioners until authorities arrived. No other church members were injured. He had six live rounds in his pocket and was prepared to shoot even more before he was tackled by 'heroes', Sheriff Grady Judd said.

We don't know exactly why he went in to this mad rage,' he added. 'He was focused on killing his wife and certainly meant to kill the pastor and assistant pastor,' he told the Orlando Sentinel. The pastor and associate pastor were in a critical but stable condition and were being treated for their injuries at a local hospital.

Authorities took Fogle into custody on charges of first-degree murder and attempted murder. They were investigating to determine his motive. During a hearing on Monday, Fogle was charged with murder and attempted murder after the shootings. He was ordered to be held without bond.

The couple ran a transportation firm and his wife had nursed him back to health after he had back surgery, Mrs Fogle's sister Maria Beauford said. 'We have no idea what his motive was,' Ms Beauford said. 'We just have no idea.'

Fogle was known as a community man and could often be seen in his home's front garden with his wife.

Jeremiah Fogle's older brother, Collis Fogle Jr, added: 'It's so sad. I've been trying to call to figure out what went wrong.' Authorities said Fogle ran through the church doors after a morning service had wrapped up and just before another daily service.

The red-brick building also serves as a school and sits across from a mobile home park. Several police cars and tape blocked off the church. Fogle had a white bandage around his head on Sunday night and was led to a patrol car, refusing to speak with television reporters. 'Of all the places you should be safe, you should be safe in a house of worship,' Sheriff Judd said. 'Especially on a Sunday morning.' Fogle is scheduled to make his first court appearance on Monday.
This is a really sad story and we pray that the pastor and associate pastor at the church pull through.
Given this guy's blatant history of "misusing" firearms … we'd have to say that his first wife's death was NO accident. What do you think?
Thoughts?
Be the first to receive breaking news alerts and more stories like this by subscribing to our mailing list.