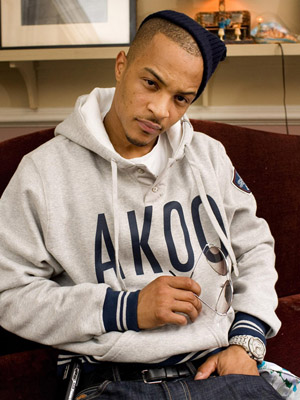 The real reason T.I. is behind bars this very moment?
Well … according to the Bureau of Prisons officials, the rapper violated his the conditions of his early release by having an entourage of people with him on the tour bus he used to travel from the Arkansas Federal prison to the halfway house in Atlanta where he was due to serve out the remainder of his 11-month prison sentence.
According to CNN, prison officials objected his manager and a reality TV producer riding with him.
"Such people were not authorized to travel with him in the conditions of his furlough," says a Bureau of Prisons report obtained by CNN. "He further indicated he was discussing a new reality series and a book with those individuals."
But T.I.'s defense lawyer Steve Sadow said that prison officials escorted T.I. to the tour bus the morning he was released, and never told him that only his wife could travel with him. Sadow says that officials also never asked the rapper to provide a list of the names of the people who would be on the bus.
His manager Brian Sher also defended the rapper in a statement to prison officials.
"It was clear to me that Mr. Harris believed that I was permitted to be with him on the trip back to Atlanta because I had been authorized to visit him and have contact with during his time in Forrest City," Sher said. "During my time with him on the ride back to Atlanta, no business was conducted with Mr. Harris."
Cris Abrego from VH1 was also on the bus, and he too believed that it was okay since he "was on the authorized visitor list, and had visited with Mr. Harris a couple of times prior to his release."
Bureau of Prisons officials are expected to review the incident, however it is currently unclear as to when a decision will be made.
Be the first to receive breaking news alerts and more stories like this by subscribing to our mailing list.