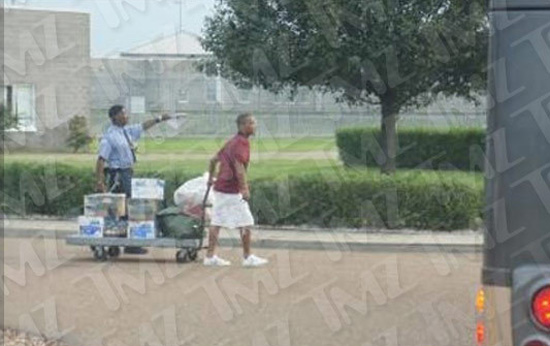 TMZ is passing around a series of photos of T.I. as he is walking out of the Forrest County Correctional Facility in Arkansas on August 31st on his way to a halfway house in Atlanta.
Officials say they detained the rapper and are now "holding" him because he used an unauthorized method of transportation to the Atlanta halfway house, but the photos clearly show that T.I. had nothing to hide when he left Arkansas.
He was even accompanied by a prison security guard as he made his way to the "unauthorized" tour bus that transported him and his entourage to the halfway house where they re-arrested T.I. and sent him back to prison to continue the remainder of his prison sentence.
Sources tell TMZ … T.I.'s legal team believes prison officials targeted T.I. when they picked him up at the halfway house and hauled him back to prison, their reason was that T.I. was not authorized to take the tour bus. Yet the pictures clearly show prison staff knew exactly what mode of transportation he was using.

T.I.'s legal team believes prison officials have now trumped up other reasons to justify sending T.I. back to prison — namely, that he brought unauthorized people on the bus, including his manager and 2 VH1 producers. Prison officials also claim T.I. was conducting business on the bus, because shortly after T.I. got off the bus VH1 announced it was doing a T.I. documentary/reality show.

And one more thing … Prison officials say T.I. deceived them by not disclosing the manager and the producers would be on the bus. The officials claim T.I. had only said his wife would be accompanying him.

But T.I.'s legal team claims T.I. had a 2-minute, casual conversation with a member of the prison staff 3 months before his release, and that's when he said his wife would be on board but never even considered who else might be there.

The legal team believes prison officials are just out to get T.I. and are coming up with lame reasons to justify their actions.
We couldn't agree with T.I.'s legal team any more. It definitely sounds like the feds are simply out to get T.I. to us too! Who gets thrown back into prison just because they used a certain method of transportation to get to a halfway house nearly 400 miles away?
Be the first to receive breaking news alerts and more stories like this by subscribing to our mailing list.