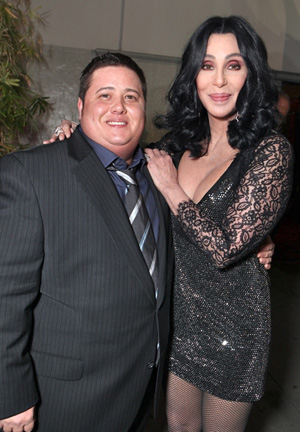 Pop legend Cher is lashing out at critics who have nothing but negative things to say about her son Chaz Bono's upcoming stint on "Dancing with the Stars."
Chaz Bono, who was born Chastity Bono, daughter of Cher and Sonny Bono, was named as a contestant on the hit dance competition series earlier this week.
And once the media caught wind of it, several blog sites, reporters, and others expressed how unhappy they were about the decision made by TV executives to pair a professional female dancer with Bono, who recently underwent extensive gender transformation surgery to become a male.
Dan Gainor of the Culture and Media Institute calls Bono's casting "a ridiculous, agenda-driven move by 'Dancing With the Stars.'"
"This is the latest example of the networks trying to push a sexual agenda on American families," he said Thursday.
OneMillionMoms.com is even calling for a boycott of the show, saying on their website that the casting of Bono and openly-gay reality star Carson Kressley "is completely unacceptable and Christians should not watch the show, no excuses!"
Now Chaz's mom Cher has come to her son's defense, insisting that it took "courage" and "guts" for him to sign up to even do the show in the first place.
She said on Twitter last night:
"Chaz is being viciously attacked on blogs & message boards about being on DWTS! This is still America right? It took guts to do it. I support him no matter what he chooses to do! God! Will there always be haters! It took COURAGE to do DWTS! Chaz has an unlimited supply. Can u guys check out sites & give him your support? … He is such a good person inside (with a) lot a heart."
Clearly moved by his mother's words, Bono tweeted:
"Thanks for all your support mom. The haters are just motivating me to work harder and stay on DWTS as long as I possibly can."
Also coming to Chaz's defense is "Dancing with the Stars" executive producer Conrad Green, who says despite the controversy surrounding the casting of its first transgender contestant, the show remains family friendly, and viewers should actually take the time and watch the new season before jumping to conclusions.
Green also says the show has no agenda other than entertainment, and is always seeking to represent a range of people.
"I think we've had three gay or transgender contestants out of about 120 on the show, so what we're really doing is reflecting some of the makeup of this vast array of people that make up American society," he said in an interview Thursday.
"We're not going to be dwelling on Chaz's sexuality any more than we dwell on anyone's sexuality on the show," he continued. "We're not going to be going into things that are going to make it difficult for you to watch with your children at all."
Green added that Bono wasn't cast to stir controversy, but because he's "a great guy and he's got a really interesting story. He comes from Hollywood royalty as a family and is familiar to loads of our audience throughout his life."
While others are going off on ABC, the Gay and Lesbian Alliance Against Defamation (best known as GLAAD) praised the network and DWTS producers for casting Bono. Spokeswoman Sharda Sekaran said that despite some negative response, his appearance on the show may help foster better understanding about transgender people.
"This community faces a lot of misunderstanding, fear and hatred, and all too often, violence," she said. "But these are people just like anybody else, who are part of everyday things as normal as entertaining audiences on a dancing show. Even with the negative reaction, it gives people exposure and access to the story of a real-life transgender person."
Chaz Bono will be joined by David Arquette, Ricki Lake, Ron Artest, Elisabetta Canalis, Nancy Grave, Kristin Cavallari and more when the 13th Season of "Dancing with the Stars" premieres September 19th.
What do you think about DWTS casting Chaz Bono?
Be the first to receive breaking news alerts and more stories like this by subscribing to our mailing list.