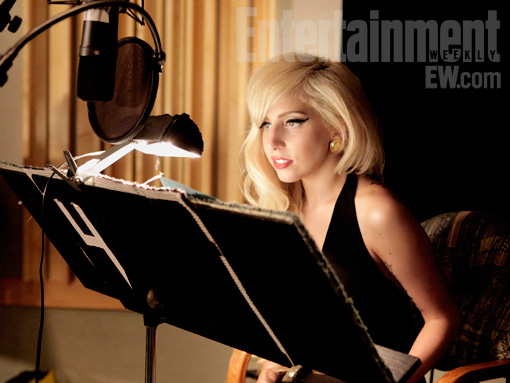 You know you're somewhat of an icon when classic cult animated show The Simpsons comes a-knocking at your door … and Lady Gaga answered!
In fact, the "Judas" singer has already recorded her guest spot on the show in a special episode called "Lisa Goes Gaga."
According to EW, in the episode, Lady Gaga's character makes a pit stop in Springfield upon learning that it's the place to go if you have low self esteem, and winds up trying to cheer up Lisa through the power of speech, song, and a flash mob.
There's also a scene where she kisses Marge! "I play a little bit of a slut," Gaga says of her role. "The apple doesn't fall far from my artistic tree."
So how did 25 year old Gaga feel when getting ready for her role? "I make music, but I don't do voice-overs every day of the week, and their characters are so awesomely convincing and sincere and wild and funny, I had to remind myself constantly of the sincerity of the humor. That's what I was trying to focus on, not putting on a character too much and really being as sincere as I could with the lines."
Creator Matt Groening said of the whole Lady Gaga process, "Since the very beginning, I've always wanted to have on the most iconic personalities of our time, and she's it. It's very hard to top reality with her, but I'm sure we'll come up with something that is going to be as improbable as her usual wardrobe."
Executive producer Al Jean continued, "For the first time in the history of The Simpsons, we are honored to have on a show business legend who is younger than our show."
Out of the many highs in her short career the "Born This Way" singer says of her Simpson experience, "I would say this is one of the coolest things I've ever done. My dad's probably going to do 80 backflips when the episode comes out."
The episode, titled "Lisa Goes Gaga," will air in the Spring of 2012 as a part of The Simpsons' 23rd season, which premieres on September 25th.
Be the first to receive breaking news alerts and more stories like this by subscribing to our mailing list.