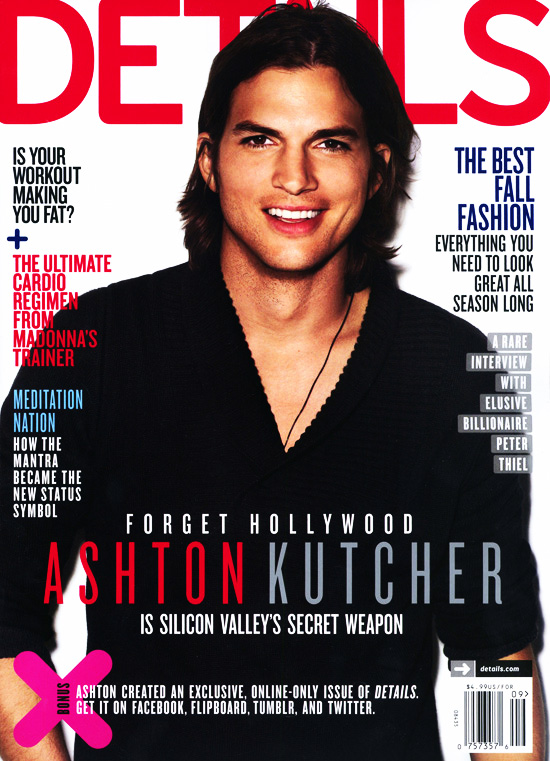 Ashton Kutcher has landed on the cover of the September 2011 issue of Details Magazine.
The 33-year-old actor, who just started filming the new season of "Two and a Half Men," also guest edited an exclusive and online-only version of Details that is scheduled to launch next Tuesday (Aug 16) via Facebook, Tumblr and Twitter.
Read what Ashton had to share with Details Magazine below:
On how he became a tech nerd:
"After Punk'd, Katalyst did a deal with AOL to produce short-form content for the Web. At that time it was a different game. If you got front-page coverage on any popular website, you could probably get a push. But about three years ago I started playing around with Facebook and Twitter, and I realized what could be done inside real-time shared media, where you didn't have to be connected to a big portal or big media outlet to get your story out. I thought that was pretty powerful."

On privacy:
"I think privacy is valuable. You don't have to share everything, and it's healthy to occasionally hit the pause button and ask yourself if you're oversharing. But at the end of the day, if you're not doing anything wrong you don't have anything to hide."

On taking on his new 'Two and a Half Men' role:
"I've been flirting with going back to TV for a while. When this opportunity came up, I thought to myself, why not?"

On his new 'Men' character:
"It's somewhere between an alien and Jesus Christ, but I can't be more specific than that."

On whether or not he's talked to Charlie Sheen:
"I don't know him. I've never met him in my life. But, you know, he sent me congratulations and wished me well. Via Twitter."
Hit up Details.com for more on Ashton Kutcher!
Be the first to receive breaking news alerts and more stories like this by subscribing to our mailing list.