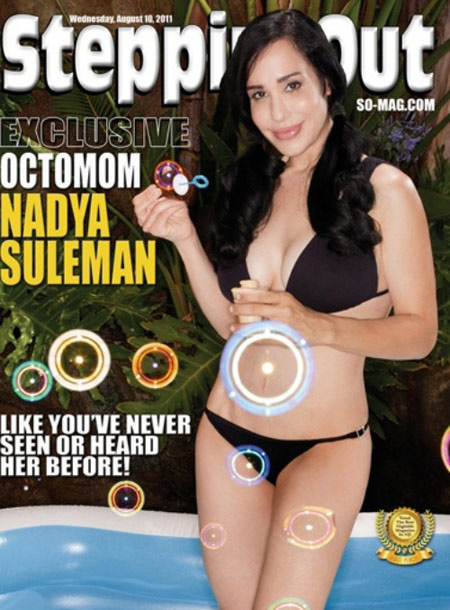 Octomom strips down to a bikini on the latest cover of Steppin' Out magazine.
In her cover story, the "mother of 14" reveals that she has ZERO sexual interest. "I only had one boyfriend my whole life and I never loved him. I only wanted babies," she says.
She admits that even her past relationship with her husband wasn't intimate or touchy-feely.
"I can tell you that I never touched him physically, "she reveals. "It was a different type of marriage. That's all I want to say about it. I'm the kind of person who can be with a man for years and never touch him. My mind is not wired that way. I don't need that kind of thing. People need sex, but I don't … I have zero sexual interest."
Octomom  (real name: Nadya Suleman) also claims that she has never touched herself in any type of sexual way. She explains, "I've never even touched myself in that way. Maybe if I had touched myself things would be different. It's like a trigger food. I never tried it so I don't know what I'm missing."
She says at this point she's only looking for friendship in a guy, and it will take up to five years for her to even consider giving the panties up. "I couldn't even imagine kissing something. I'll be your friend but it would take at least five years for me to even consider having sex with you. There's probably one man out of 6.6 million in the world for me," she said.
This lady must have already planned on being alone for the rest of her life … because no man in his "right mind" would even attempt to wife someone who has no sexual interest.
And did we forget to mention she also has 14 kids?!?! Oh, we didn't forget? Well, we'll say it again anyway: SHE HAS 14 KIDS!!!
Be the first to receive breaking news alerts and more stories like this by subscribing to our mailing list.