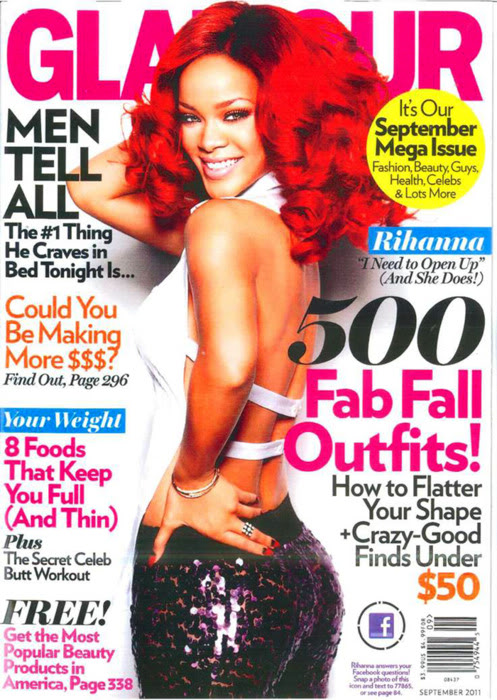 Rihanna is not holding back in the September 2011 issue of Glamour Magazine.
The pop starlet opens up about her fellow female pop singers, avoiding drama in her life and how she likes to dominate both her man and image.
Check out the excerpts (and pics) below:
On liking dominant guys in the bedroom.
"I play a very dominant role in my life, in every aspect of it. And I like to feel like a lady still, at some point. I feel like that's the time when a guy really gets to be a man, and I get to be a woman. And if I'm being a man in the bedroom too, there's nothing really in it for me."

On her fellow female musicians.
"There's a pack. It's me, Gaga, Katy Perry, Beyoncé…who else? Ke$ha for sure. Women are definitely dominating music right now, and that's because we are competitive beings. I feel like music hasn't been this exciting in a while."

On being a role model for young girls.
"I want to set the right example and, at the same time, live my life….I feel like pop stars can't be rock stars anymore because they have to be role models, and it takes the fun out of it for us, because we just want to have fun with art."

On her friendship with Katy Perry.
"All my friends are guys, to be completely honest. But when I met her, it was such a breath of fresh air. I just couldn't believe this chick had no edit button…. Katy and Lady Gaga came out of the gate exactly the way they think, the way they wanna dress, the way they wanna speak."
To get more juicy insight, pick up the copy when it hits newsstands!
Be the first to receive breaking news alerts and more stories like this by subscribing to our mailing list.