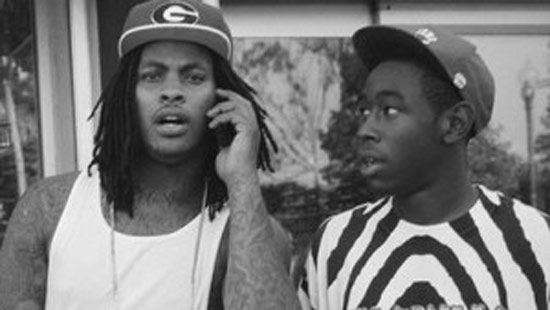 Waka Flocka Flame and Tyler the Creator recently got a chance to step into each others' shoes and chop things up for the August 2011 issue of Interview magazine.
During the interview, Waka Flocka questioned Tyler about his controversial "Yonkers" video. Flocka asked, "Is there something deeper behind it? What do those images mean?"
Tyler responded:
"Well, a lot of people think that stuff is a lot deeper than it really is. Some people just think too much. Like, my manager knows I wanna be a video director, so he was like 'Hey, just write a video, write the treatment for it, and we'll shoot it." So I was like, 'Alright, fuck it. I'll eat a cockroach, I'll throw up, and then I'll hang myself…It's, like, no subliminal messages or secret meanings or anything. I just personally think that shit would look really cool, so I just did it."
Flocka must have been somewhat impressed as he also recruited Tyler to direct one of his next videos. "I'm gonna get one of ya'll to direct one of my viral videos. It'll be Odd Future-directed," he said.
We bet these two have a lot more in common than anyone would have expected!
Be the first to receive breaking news alerts and more stories like this by subscribing to our mailing list.