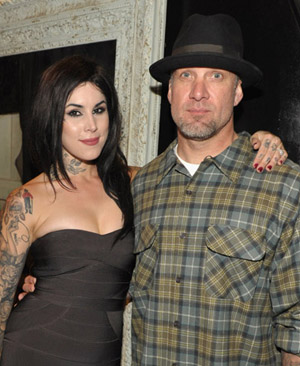 Following in the footsteps of "Hills" star Kristin Cavallari and her football player fiance Jay Cutler … Jesse James and Kat Von D too have called off their engagement, and have broken up.
"I'm so sad because I really love her," Jesse James told People.com exclusively. "The distance between us was just too much."
Kat Von D confirmed the split herself as well via her Twitter:
"I am no longer w Jesse, and out of respect for him, his family and myself, thats all the info I'd like to share. Thanks for respecting that."
The couple announced their engagement back in January, and were planning to wed this summer around the 1-year anniversary of when they started dating.
But just like Kristin and Jay, the physical distance between their work and personal lives proved to be a bit too much. (Kat shoots her reality show "L.A." Ink in L.A. and Jesse lives with his young kids in Austin, Texas.)
And another one bites the dust…