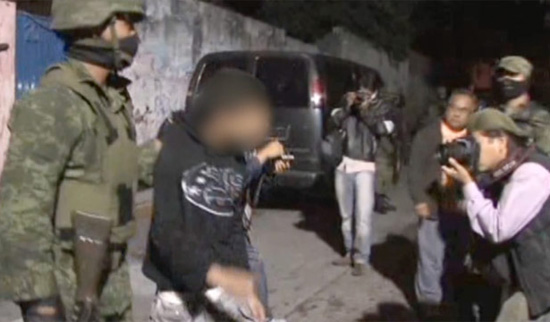 A 14-year-old boy who was born in the United States will spend time in a foreign prison after he was found guilty of torturing and beheading at least four people and kidnapping three others in Mexico!
Fortunately for the teenager, who acted as a hit man in the attacks, the maximum sentence allowed under Mexican law for his crime is 3 years. In addition, he must pay a 4.5 million Mexican peso fine, which is about $390,000 USD.
The defendant, known as "El Ponchis" ("The Cloak") is a 14-year-old boy from San Diego. Because he is a minor, his trial in Cuernavaca, Mexico, was closed to the public. He was captured near Mexico City in December. In an on-camera interrogation by Mexican military authorities, the youth admitted to brutally killing people – the victims all were beheaded. The video shows a military interrogator asking the slim teenager with curly hair several questions.

"How many have you killed?," he asks. "Four," he responded calmly. "How did you execute them?"

"I slit their throats."

A YouTube video that circulated last year purportedly showed the teenager beating a man with a two-by-four while the man was tied at the wrists and hanging from the ceiling, as other young people watched.

The teen was accused of of crimes related to drug trafficking – specifically cocaine and marijuana – illegal possession of military weapons, and violations against federal organized crime law "with the objective of committing kidnappings and aggravated murder," juvenile court spokesman Juan Carlos Castro said before the trial.

"El Ponchis" is not the only minor in Mexico allegedly involved with drug cartels. Social media pictures have surfaced in the last year showing teenagers and young men holding high-caliber assault weapons and wearing masks.

Six youths were captured last October in a town about 30 miles south of Mexico City. Graffiti in the house where they were hiding linked them to the so-called South Pacific Cartel, a splinter group that formed after cartel leader and drug lord Arturo Beltran Leyva was killed in a shootout with the Mexican military in December of 2009.

[CNN]
Mexico sounds like a pretty grimy place to live! Wonder why the kid is living over there instead of his hometown in San Diego?
Be the first to receive breaking news alerts and more stories like this by subscribing to our mailing list.