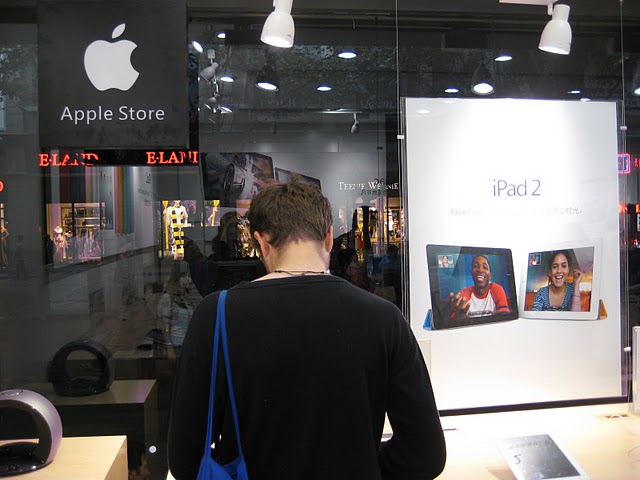 China is known for producing counterfeit Apple products, but now it appears as if they're taking their duplication techniques a few steps further by completely ripping off Apple's retail stores.
A 27-year-old American blogger living in an area of China called Kunming stumbled on what she later found out to be a "fake Apple store."
The store, complete with the white Apple logo, their famous wooden tables and a group of happy staff members wearing blue shirts with Apple logos printed on them, looked very much like the more than 300 official stores strategically all over the world.
The anonymous blogger wrote:
"I went inside and poked around. They looked like Apple products. It looked like an Apple store. It had the classic Apple store winding staircase and weird upstairs sitting area. The employees were even wearing those blue t-shirts with the chunky Apple name tags around their necks."
But there were some discrepancies between the Kunming store and the real Apple stores. For one, upon further inspection, the anonymous blogger discovered that Apple has no stores in Kunming. In fact, there are only 4 official Apple retail stores in the entire country of China: 2 in Beijing and 2 in Shangai.
There are, however, 13 authorized resellers scattered throughout the country, but they aren't allowed to call themselves Apple Stores or claim to work for the iPhone makers, something the store in Kunming was blatantly doing.
"This was a total Apple store rip-off. A beautiful rip-off – a brilliant one – the best rip-off store we had ever seen," the anonymous blogger posted on Wednesday. "Being the curious types that we are, we struck up some conversation with these salespeople who, hand to God, all genuinely think they work for Apple."
Another difference between the Kunming store and that of real Apple stores, was actually quite funny. The store in Kunming had "Apple Store" written on the outside of the building, which is a stark contrast to the lonely glowing white Apple logo that appears on the outside of every single one of Apple's 331 official stores.
Also, the name tags around the necks of the salespeople had the word "Staff" beside an Apple logo on them, rather than the staff member's actual name like at the real stores.
It's unclear as to whether or not the store was selling fake or genuine Apple products, and Apple has so far declined to comment.
It's also worth mentioning that the anonymous blogger who broke this juicy story also discovered 2 more similar fake apple stores right down the street.
Check out some of the pics of the fake stores below:
And here's some video footage:
Be the first to receive breaking news alerts and more stories like this by subscribing to our mailing list.