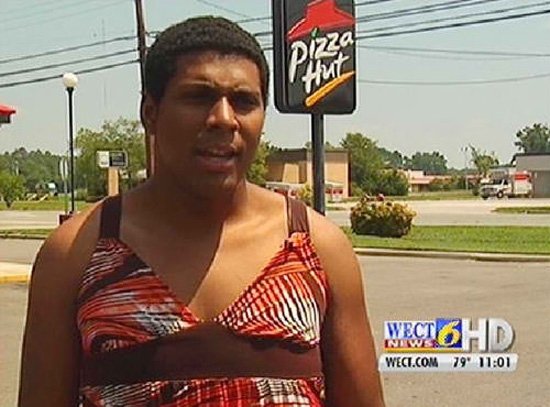 A gay man says he was kicked out of a North Carolina Pizza Hut because he was wearing a dress. Reps for the popular pizza chain say Vishon Murphy was turned away because he was being "disruptive."
"I respect people and their boundaries because I understand that everyone does not like my lifestyle and I show them respect," Murphy told reporters. "I deserve to be respected, as well."

Pizza Hut reps say that Murphy visited the restaurant several times and did not purchase anything. He was asked to leave the establishment after customers complained about him being dressed up in women's clothing.
Some customers believe Pizza Hut had a right to ask Murphy to leave … while others say that the restaurant is discriminating against someone's sexuality.
"If I was paying for something then I should be able to go in and sit down. I'm half Scottish and if I wanted to wear a kilt in here I should be able to," said customer Greg Lanier.
The restaurant also apparently has video footage of Murphy being a "drama queen" (ha!) when they asked him to leave the restaurant. He said he "got very heated and very upset" because he felt like he was being "harassed and picked out and embarrassed in front of other people because of what I have on."
[Fox 19]