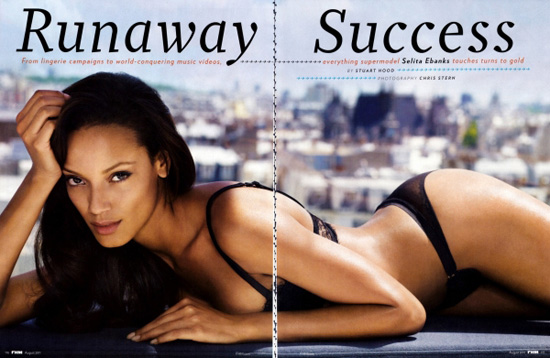 Selita Ebanks shows off her sexy figure inside the pages of the August 2011 issue of FHM UK Magazine, where the supermodel talks about her shoe obsession, appearing in Kanye West's "Runaway" film and what it feels like modeling underwear worth $1 million for Victoria's Secret.
What was it like being the Phoenix?

"It was such a strange character that it was almost like an out of body experience. It was also very stressful. Partly because we filmed 21 hours a day and partly because Kanye's vision was so out of the box that the video was a real hit or miss idea. I did not want to be the reason it became a miss."

Your outfit ensured it was a hit for us…

"Yeah, it wasn't very substantial, but to be honest I didn't really worry about it, as I was more concerned about the character and I am really free spirited about my body. For me the most nerve-wracking thing about the outfit was persuading my grandmother that I was actually wearing something, as since the feathers were nude she thought I was naked."

How did you prepare for kissing Kanye?

"I didn't. There was no, 'Okay. Breath check,' or anything it was just like: 'Okay sweetie here are your lines, now kiss me.' So it was very weird and more than a little awkward because it was my first onscreen kiss and Kanye is a good friend of mine. Fortunately the lighting was really dark, so that made it less intense."

Do you still hang out with Mr. West?

"He hangs with me, darling. I'm only kidding. Our schedules mean we don't see a lot of each other, but we had dinner at the Cannes Film Festival. It was good to catch up about work and his album."

We hear you need a maths degree to count how many pairs of shoes you own.

"I stopped counting a long time ago. I don't want to sound pretentious, but I reckon I have over 300 pairs. I do donate some to charity, but others I've had for over ten years and love so much I simply can't let go."

So are shoes the best way to your heart?

"Let me tell you something. If a guy bought me a limited edition of the fiercest, highest heels straight from the runway then I would be in love so yes, shoes are the quickest way to win me over. Absolutely."
Be the first to receive breaking news alerts and more stories like this by subscribing to our mailing list.