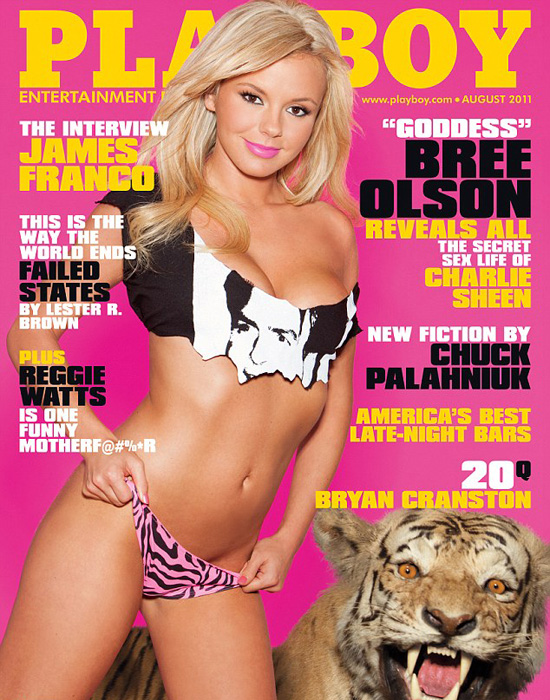 Porn star Bree Olson got a rapid rise in fame earlier this year after she became publicly known as a "Charlie Sheen Goddess."
And now Olson, who left the self proclaimed Warlock's home back in April, appears on the cover of the latest issue of Playboy Magazine, where she discusses a number of hot topics … including how "good in bed" Charlie Sheen is.
"He's intelligent, he's charismatic, he's super funny, and he's good in bed. I mean, he's had a lot of practice," she tells Playboy.
Olson (real name: Rachel Oberlin) also says Sheen was "gentle and considerate" between the sheets. "He's just a rock star," she adds. "He's a powerhouse. He's a very sensual and sexual person, and when I was with him, I felt as if we became one together, because he's just so enticing sexually."
Inside the pages of the August 2011 issue of Playboy Magazine, the aspiring actress also addresses rumors that she had threesomes with Sheen and his other "goddess" (his former nanny Natalie Kenly).
"That was a lie," Olson reveals. "I didn't really even know her. Okay, all three of us got together, I think, twice. They did their thing together, and Charlie and I did our thing together. And we had two different beds. She and I would go to whichever bed, and he would pick. You know, 'Where am I sleeping tonight?'"
Back when she was living with Sheen, Olsen insisted that she had no problem sharing Sheen with his other Goddess Natalie Kenley. So why did she abruptly leave Charlie earlier this year in the middle of his "Violent Torpedo of Truth" tour?
She explains, "As soon as Live Nation approached Charlie with the idea for a tour, that's all he talked about…. like he was cheating on me with his tour."
So Olson, fed up with Charlie and his erratic ways, left a break-up note for the former "Two and a Half Men" actor, and left the house. "C, I'm not comfortable here anymore. I'm going home," the good-bye note read. "I wish you the best on the rest of your tour. (Here's your watch.)'"
For more on Bree Olson and her sexual escapades with Charlie Sheen, pick up the August 2011 issue of Playboy Magazine when it hits newsstands July 15th!
Be the first to receive breaking news alerts and more stories like this by subscribing to our mailing list.