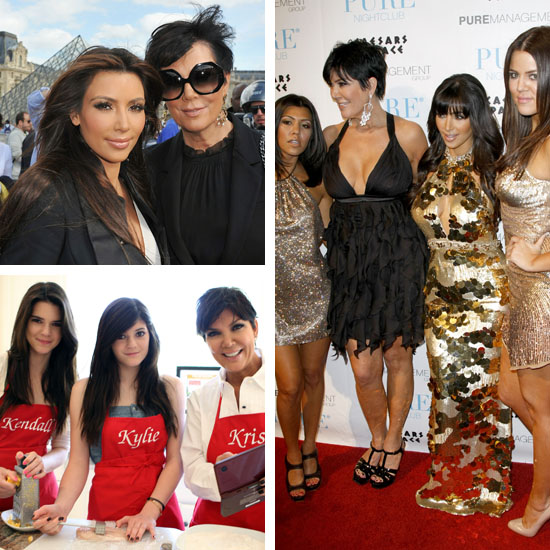 Kris Jenner is what they call a supermom. Not only is she a mother to 6 children, including celebrity socialites Kim, Khloe and Kourtney Kardashian, but she is also their managers, and spends about 12 or more hours a day working for them and building their careers.
But she gets a lot of flack for it, with folks even calling her a "pimp" for exposing her children, especially her youngest daughters Kendall and Kylie Jenner, to the media at such an early age.
See how she responds to that and more below:
"I always teach my kids, 'God first, family second and everything else will fall into place,'" says Jenner, founder of the SoCal-based LifeChange Community Church. The house of worship, cheekily referred to as "Church of the Kardashians," is funded by Kim Kardashian, the family's top earner and biggest personality with millions of dollars in endorsement deals, an eponymous perfume line and a blockbuster televised wedding on the way.

Although her three eldest daughters (the stunning Kim, the sharp-tongued Khloe and the strong-willed Kourtney) get the most attention, it is widely perceived and not entirely inaccurate that Jenner is the driving force behind their fame and branded business endeavors. The mom-ager has parlayed her megahit E! series "Keeping Up With the Kardashians" into three spinoff shows and near-total domination of the celebrity-news-cycle.

Unlike previous reality famous clans, who've folded under the pressure of living for the camera (see: Nick and Jessica), the Kardashians appear to thrive and multiply under the microscope, inviting us to peek inside their glamorous world.

Nothing seems to faze your family, on or off camera. Why is that?

It's really interesting. I often think about how lucky I am. I came up with this television show and when I presented it to the family, and said, "Hey guys, we're gonna make a reality show. What does everybody think?" And there really wasn't one person who said, "You know what? We're not going to do that." Every single person at the end of the day was on board and so excited to be a part of this journey. And let me tell you, it's not easy. … We shoot a lot of shows during the year, and a typical season we might shoot three or four months, 18 hours a day, with no days off. Seven days a week. For months. And not ONE of my kids, including the little ones, has ever said "I cant do this anymore." Its like they show up for work at 5 'o' clock — everyone shows up in my bathroom at 5 a.m. for hair and makeup — so when I'm at the gym, they're showing up at my house, and when I walk back into my house, and we're filming, then I've got all my kids here. I continue to work in my office, on and off filming, but we all show up for hair and makeup, and they work a very long day until they fall down. And they get up the next day and they do it all over again.

Do the producers ever tell you to go somewhere or do something to add drama?

Absolutely not. If you try telling Kourtney, Kimberly and Khloe to go do something to add drama, they have so much drama in their lives that it would last the next 300 years before somebody could tell them to amp it up!

(Then I guess we can remove these various plot twists from Things That Have Not Been Staged: Kim's illicit kiss with an Aussie bodyguard named Shengo; Kris accidentally spiking son Rob Kardashian's drink with Viagra meant for Bruce; Kim getting attacked by a jealous woman at a New York City nightclub.)

Who's the most dramatic?

Kim.

I can sense that.

They all have really fabulous, crazy, delicious personalities and everyone has a little twist to them, but they're really good girls. And I'm really proud of them because of their work ethic, and the way that they handle themselves, and you know, they have made for themselves, they work hard, they love to work on their businesses, and I really admire that. I admire that they like to wear a lot of different hats, and they like to do different things, and they like to have fun. And I think they have really well balanced lives.

Were you really going to change your last name back to Kardashian?

I thought about it! I thought about it.

Bruce seemed really hurt by that last episode.

Bruce is fine. I mean, first of all, I'm married to a guy who's the greatest guy in the world. But he also has the greatest sense of self esteem. Nothing rattles Bruce. Also, he was very emotionally feeling a little bit sad about that — you know, he was like, "What?" I think that Bruce, at the end of the day, knows that I will always do the right thing. And I think that he knew all along. He has great confidence in our relationship as well. And he knows. Ive come home with some pretty crazy ideas in my day — we've been married 20 years. And he has seen it all! So for him, I'm sure he was just thinking, "omigod, she's crazy."

How do you respond to people who call you a pimp?

I feel like here's how I respond: You need to walk in someone else's shoes before you start criticizing the way that they live their life. And the way that they get through life. And the way that they work. And I think that I am so blessed to get up each and every day and to be able to work with my family. You know? And to be able to have a direction, and to have so much fun and exciting times creating different things for my kids — and a whole brand and clothing lines and supplements and fragrances and all the different things that we do that we're passionate about. You know, my kids are fashionistas. They love fashion, they love working. And to be able to have the knowledge, or the intuition, or the guidance, and to have an influence on your kids' life and help them get these businesses started, was one of the most rewarding things I've ever done in my life. Other than giving birth, and having a successful marriage, and having an amazing family, and being able to enjoy that. To be able to work together is my biggest blessing.

Your kids want this, don't they?

Omigod, they are workaholics! I mean, these girls have been working since they were 13 years old. My 13 year old [Kylie] works more than some of my adult friends. It's like when your kids are growing up and you give them enough opportunities so they can discover what their gifts are in life. Like you have kids who play soccer or football or baseball or take a dance class, you know, whatever it is that you might offer your kids, to see where their strengths and weaknesses are. It doesn't stop just because they're a certain age. You just run out of ideas, perhaps. You get tired as you grow older. This is my passion. My kids and my family are my passion. I'm just lucky enough to be able to be living this life.

[OMG]
Be the first to receive breaking news alerts and more stories like this by subscribing to our mailing list.