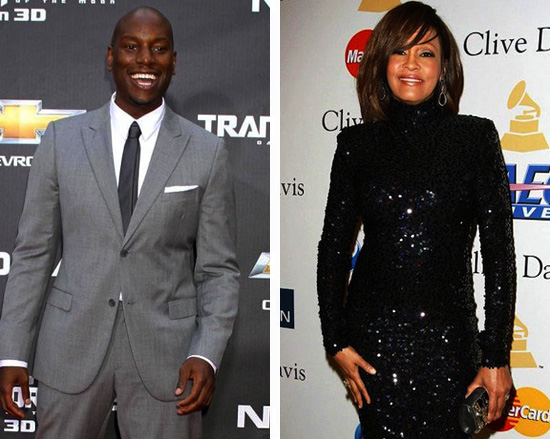 Tyrese Gibson has denied rumors that he is "quietly dating" Whitney Houston.
Speculation of Tyrese dating the R&B legend was sparked through a story printed by the National Enquirer, who claimed that the two met earlier this year at a pre-Grammy party in L.A. "After the party, Whitney called to ask him out. Now, they're quietly dating," a so-called "insider" allegedly revealed to the tabloid mag.
But Tyrese laughs off the claims, saying in a series of tweets: "Negative blogs, press, blurbs, people spreading negative things. Rumors. I rest WELL at night cause none of these things matter anymore…" He continued, "Man if ya'll don't GTFOH w this dumb s**t.. Hahahahahaahahaa… #NEVER… I repeat.. NEVER..!!"
Responding to Tyrese's strong denial was Whitney and her ex husband Bobby Brown's 16-year-old daughter Bobbi Kristina, who tweeted:  "Lmao @ @Tyrese . . Damn it's like tht?! Hah well to clear it up, TRUSTME, MYMOM WOULD NEVER. Hah #shesroyalty. Wouldn't want em, noworries:)."
Hours later, Tyrese posted another clarifying series of messages on his Twitter page: "No disrespect … I have never and will NEVER date Whitney Houston.. Can't be serious.. Someone must be bored as s**t.. #Stopitplz"
Be the first to receive breaking news alerts and more stories like this by subscribing to our mailing list.