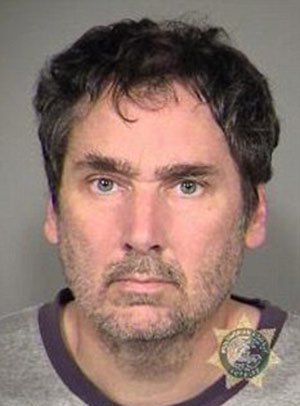 A Portland man has been detained by the Secret Service after threatening to kill President Barack Obama and his family.
Darryl James Swanson, from Portland, Oregon, has now been detained for a mental health evaluation after appearing in federal court yesterday on charges that he planned the horrific murder spree.

The Secret Service arrested Swanson, 45, on Friday after he made threats in numerous phone calls to government offices as well as to federal prosecutors' offices in Oregon and Washington.

Swanson left 44 voicemail messages alone on June 19 with the U.S. attorney's office in Portland and called the offices of the Associated Press bureau in Seattle on May 2, leaving a message that said he would seek weapons to shoot the president and his family.

'I may have to get in touch with Al Qaeda and get a hold of at least one, possibly two good working machine guns and blast my way into the White House,' he said.

After AP told the U.S. attorney's office and the Secret Service about the call, Swanson was apprehended by authorities.

He told Secret Service agent Ronald Brown that he made the call because he was frustrated that the president has not sent him a check for $70 million, which he claims he is owed from a trust fund set up at his birth. Brown told him that no trust fund exists, court records show.

The Secret Service did not find weapons in Swanson's apartment and warned him not to make threats against the president. But authorities say he continued leaving the angry and threatening messages at the government offices.

In court on Tuesday, Swanson consented through his public defender to a mental health evaluation after Assistant U.S. Attorney Stephen Peifer told a federal judge in Portland that he considered him a flight risk and a safety risk.

Swanson's arraignment was set for next month, when he will enter a plea.

'I do consider him to be a threat to the community,' Peifer said after the hearing.

Mert Rockney Jr., a friend of Swanson's family, said the defendant has struggled with his mental health for more than a decade.

'Darryl's harmless,' he said. 'He just needs to have someone to intervene with him so he takes the right medication.'

Secret Service spokesman Max Milien said the agency does not comment on threats made against the president.
First it was the bullsh*t with FOX Faux news…now this??? Damn….give Obama a break people.
Be the first to receive breaking news alerts and more stories like this by subscribing to our mailing list.