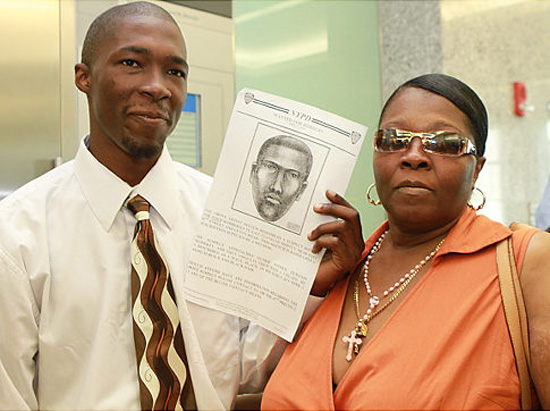 Thanks to a police sketch that looked exactly like him … a Brooklyn man was falsely accused of robbing (and pistol whipping) several older women.
He was thrown in prison for the crime, which he adamantly told police that he DID NOT commit, and was just released yesterday after 7 long months when his defense lawyer discovered (via cell phone records) that he was 100% innocent.
Lanell Dowling, 26, was nabbed over a year ago after a tipster informed cops that his mug was a dead-ringer for the wanted poster of a mugger in a string of gunpoint stick-ups.

Dowling was accused of robbing four older women in East Flatbush over two days in March 2010 and pistol-whipping at least a couple of them.

He was fingered by all four victims and was jailed in April 2010 for nearly seven months until a judge reduced his bail in October.

"It was a long time that they locked me up over nothing," a beaming Dowling said yesterday in Brooklyn Supreme Court after his case was dismissed.

Dowling and the sketch are indeed remarkably similar. "I've never seen something like that before," a 67th Precinct commander remarked to a local paper at the time of Dowling's capture, referring to the dead-on drawing.

But a probe by defense lawyer Jay Schwitzman revealed Dowling's cell phone records put him in his home when the hold-ups were committed. No physical evidence was ever recovered, and his client passed a lie detector test, the lawyer said.

And last July, while Dowling was incarcerated, the same precinct released a new wanted poster regarding a fatal robbery. Save for a baseball cap, that sketch was a carbon copy of the one that got Dowling pinched.

"It really says how identification in general is a very dangerous procedure because people often misidentify," Schwitzman said.

He thanked prosecutors, who were willing to face the facts and drop the four first-degree robbery charges and all other counts.

"I'm glad it's over," Dowling said after getting hugs from his mother and other supporters. "My family can be at peace now."

[NYDN]
Restitution … anyone? We think this guy deserves it after spending over a half a year in prison for a crime he didn't commit.
Be the first to receive breaking news alerts and more stories like this by subscribing to our mailing list.