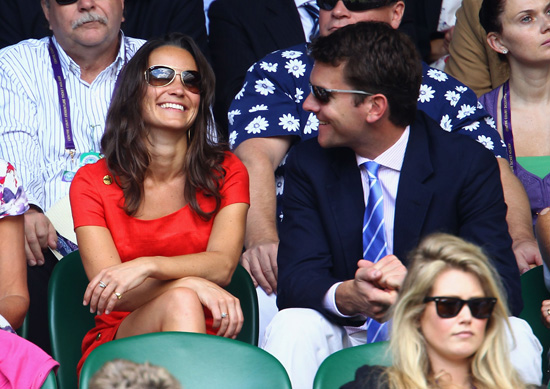 Life as the Duke of Cambridge's sister-in-law is getting pretty tough for Pippa Middleton.
So tough, in fact, that her filthy rich, millionaire parents are reportedly splurging on a $152K bomb-proof vehicle for the her, all because they fear for her life and feel as though she's become vulnerable to attack. You know, because she's a celebrity now. Maybe even more than her sister, Duchess Kate, who is guarded by Royal protection cops 24/7.
"Carole and Michael have taken a raft of measures following advice from one of William's most trusted bodyguards," a source told Britain's The Sun. "Pippa's car will have all the latest security devices, including armor plating. It will be bomb proof."
In addition to the bullet proof windows, the super car will also have the ability to drive even in the toughest conditions, like if the tires were shot out for instance.
Ever since Pippa was spotted holding Kate's train at the Royal Wedding back in April, she has been making almost as many headlines as her royal sister, from her latest choices in fashion to who she might be dating these days.
Just last week, rumors were swirling that Pippa and Prince Harry (Duke William's younger brother) were getting close. However, the young Prince shot down the rumored romance with Pippa, who fueled the fire with her recent split from her boyfriend British broker Alex Loudon.
"Pippa? Ha! No, I am not seeing anyone at the moment," Harry said at a recent concert in London. "I'm working a lot at the moment, so dating and watching TV are the last things I have time for."
But it looks like Pippa and Alex are back together because they were seen together Tuesday (Jun 28) in London at a Wimbledon game.
Be the first to receive breaking news alerts and more stories like this by subscribing to our mailing list.