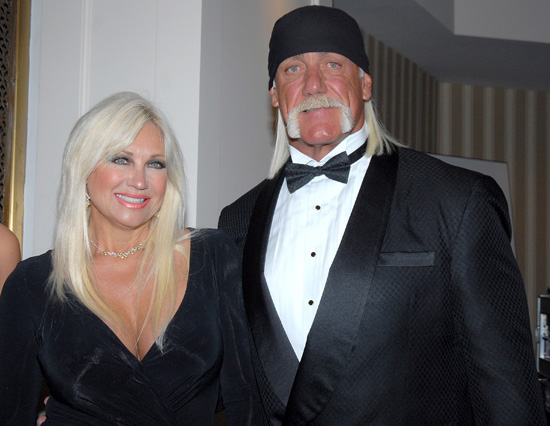 They don't call him "the Hulk" for nothing.
Linda Hogan, who was married to pro wrestler Hulk Hogan for nearly 25 years, sat down with Matt Lauer on "The Today Show" earlier this week and revealed that she often feared for her life around her ex-husband whenever he got pissed off.
Hogan is peddling a new book, titled "Wrestling the Hulk: My Life Against the Ropes" … and in it, she writes that her then-husband "tore my shirt. He threw lamps. He held me down on the bed with his hands around my throat during arguments, slamming doors, pounding walls. I was always afraid he would kill me in one of his rages."
"He did not feel remorse," Linda told Lauer. "And to this day he hasn't apologized for any of his actions."
Linda also explained why she never pressed charges against Hulk, saying, "I was quiet. I was afraid to say anything. Had I said something, the carpet would have been pulled out from underneath his career. … It's scary. You don't know how far they will go."
So if she was willing to put up with Hulk's violent episodes … what exactly broke up their marriage? Hogan says the turning point in their relationship was when she discovered that Hulk was doing drugs … and had been having an affair 10 years into their marriage.
"The drugs were always around," she said, adding there was a "constant flow of pain pills."
Linda says she always knew she would come clean about the abuse one day … and she believes that now is the best time.
"I didn't want to add fuel to the fire," she said, referring to her very public divorce from the professional wrestler back in 2007. "There are a lot of women out there in the world that are going through the same thing that I went through. if they can learn something from what I wrote, I hope I can help people."
But Hulk has a totally different story, according to TMZ. He called into a radio show this week to clear his name, referring to Linda as "delusional" and her claims of abuse are "a cold, blatant lie."
"Just take her and put her in the same category with the Iron Sheik and the Ultimate Warrior. They all belong together," Hulk said on the radio, adding that his ex-wife is just trying to exploit him and his name.
Watch Linda Hogan's interview with Matt Lauer on the "Today Show" below:
Be the first to receive breaking news alerts and more stories like this by subscribing to our mailing list.