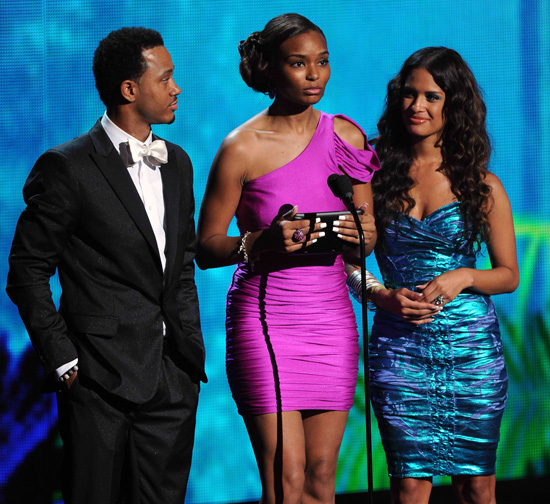 For the past three years straight … Chris Brown has ended up being right in the middle of major discussions regarding the BET Awards. In 2009, the year of the "incident" … they basically lied to the world when they announced just before the show that he was scheduled to perform (and didn't).
Then the next year in 2010, he was granted the opportunity to perform, but all people talked about was how he cried at the end of his Michael Jackson tribute. Now, a year later, in 2011 … Chris Brown is still at the center of BET Awards talks!
Last night, Tiffany Greene, an excited Nicki Minaj fan who won the chance to present the Coca Cola Viwers' Choice Award, was on the receiving end of a ton of Internet hate after she announced the "wrong" (but also right) winner for the fan-voted award. And it wasn't even her fault!
As Tiffany was about to announce the winner of the award, she looked a little confused as she tapped an iPad-like tablet device, declaring Chris Brown the winner. Overcome with panic, Greene quickly apologized and corrected herself, saying that Rihanna ad actually won, which was met with boo's and other disapproving noises from the crowd.
BET personality Terrence J then said that the winner was Drake, who declared that the situation was "awkward" as he accepted the award for Rihanna, who the award was actually for. And get this … Later in the show, host Kevin Hart RE-clarified the whole thing and said that CHRIS BROWN was actually the winner after-all!
Talk about messy.
Shortly after the flub, as the show went on, Tiffany took to Twitter, rightfully blaming BET for the whole ordeal. In fact, before she even went on stage, she tweeted that because the show was running over time her script had been cut short. And after returning from the flub, she tweeted: "Bawling backstage. They totally f**ked me up. The tablet f**kin said CHRIS BROWN….the TELEPROMPTER said Rihanna. What the F**k?????? Goin home."
"So BET did that on purpose. Oh. I feel better," Tiffany tweeted after the ordeal was cleared up near the end of the show.
After all was said on done, BET's Vice President of programming Stephen Hill admitted (via Twitter) took the blame for what could be considered the biggest mistake to happen at an awards show.
"That BET Awards Viewer's Choice mix-up was due to human error. And I was the human that made the error," he tweeted. "I apologize to ALL affected."
BET owes not only Chris Brown … but Tiffany Greene an as well. That poor girl went through all of that drama just for Chris to still end up winning (and she said he was the winner in the first place!)
Poor Tiffany…
Watch the drama unfold below:
Be the first to receive breaking news alerts and more stories like this by subscribing to our mailing list.